STEP UP!
Belgian Dance and Performance on Camera 1970-2000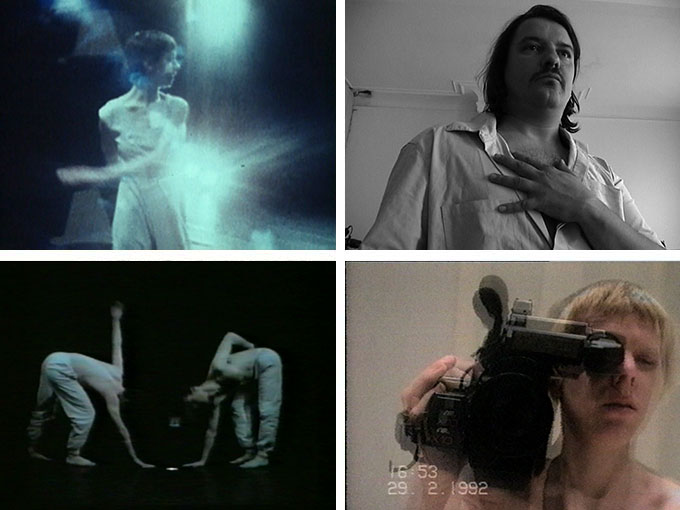 INTRODUCTION


With over fifty films and videos from the Argos Collection, the evolving group exhibition STEP UP! provides an exciting selection of Belgian works at the intersection of dance, performance and visual arts from the period 1970-2000.

While the oldest contributions by Jacques-Louis Nyst, Jacques Lennep or Lili Dujourie are more conceptual in nature, a fresh generation of dancers and choreographers see the light from the 1980s and '90s on. Iconic figures - including Anne Teresa De Keersmaeker, Wim Vandekeybus and Alain Platel - give the scenery a dash of fresh air. They and many others join forces with artists / filmmakers such as Thierry De Mey, Sven Augustijnen or Johan Grimonprez. It leads to a wave of creative films in which the camera, editing and evolving technology play important roles.

While dance and camera experience an intense ardent love affair, artists including Joëlle Tuerlinckx, Edith Dekyndt or Harald Thys and Jos De Gruyter deliver groundbreaking video art performances.

Without having encyclopedic ambitions, STEP UP! offers an overview of 30 years of Belgian artistic production. During the exhibition period, the project eleborates in five completely different stages. STEP UP! continues until July 16th, 2017.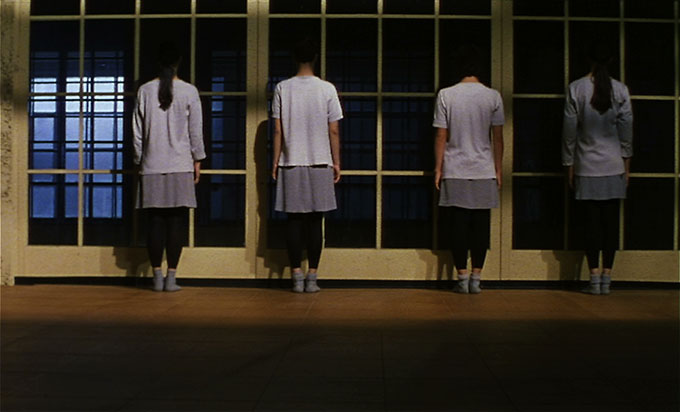 08.10.2016 - 18.12.2016
STEP UP! - Chapter 1
Belgian Dance and Performance on Camera 1970-2000
With works by Marie André, Pascal Baes, Claude Cattelain, Edith Dekyndt, Luc Deleu, Thierry De Mey, Vincent Dunoyer, Filip Francis, Michel François, Wolfgang Kolb, Jacques-Louis Nyst, Eric Pauwels, Anne-Mie Van Kerckhoven, Wout Vercammen and Angel Vergara.
With choreographies by José Besprosvany, Anne Teresa De Keersmaeker, Michèle Anne De Mey, Vincent Dunoyer, Roxane Huilmand and Marc Vanrunxt.
28.01.2017 - 19.03.2017
STEP UP! - Chapter 2
Belgian Dance and Performance on Camera 1970-2000
With works by Sven Augustijnen, Thierry De Mey, Lili Dujourie, Jan Fabre, Jacques Lennep, Jacques-Louis Nyst and Eric Pauwels.
With choreographies by Anne Teresa De Keersmaeker, Pierre Droulers, Jan Fabre, Alain Platel and Wim Vandekeybus.
13.05.2017 - 16.07.2017
STEP UP! - Chapter 3
Belgian Dance and Performance on Camera 1970-2000
With works by Pascal Baes, Bert Beyens, Michèle Blondeel, André Colinet, Cel Crabeels, Antonin De Bemels, Jos De Gruyter, Edith Dekyndt, Vincent Dunoyer, Johan Grimonprez, Boris Lehman, Jacques Lennep, Jacques Lizène, Emilio López-Menchero, Messieurs Delmotte, Ria Pacquée, Harald Thys, Joëlle Tuerlinckx, Hans Van den Broeck, Anne-Mie Van Kerckhoven, Angel Vergara and Jan Vromman.
With choreographies by Bud Blumenthal, Anne Teresa De Keersmaeker, Christine De Smedt, Vincent Dunoyer, Meg Stuart and Marc Vanrunxt.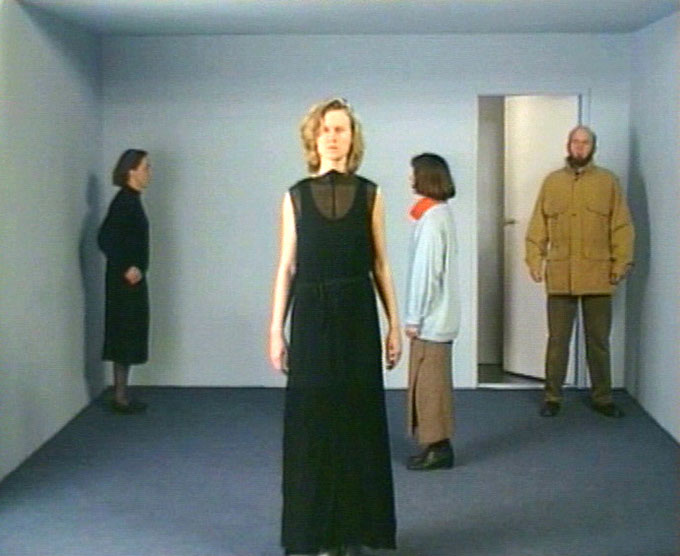 STEP UP! Belgian Dance and Performance on Camera 1970-2000

Argos focuses extensively on the history of dance and performance in Belgium and on how these art disciplines relate to film and video. The exhibition STEP UP! Belgian Dance and Performance on Camera 1970-2000 is composed of three chapters that run from early October 2016 to July 2017. Because dance and performance have to do with movement, space, position and time, the exhibition will regularly change its location on our spacious ground floor. Furthermore, the programming, which includes over fifty works, rotates over the three chapters. We therefore gladly invite you to return several times, as STEP UP! will be different each time!
Underlying STEP UP! is a research project that explores the roots of dance and performance film in Belgium. In the exhibition various historical works are tested or confronted with other works by artists that were created outside the world of performance or dance, but that aspire to a similar form of aesthetics, positioning or philosophy.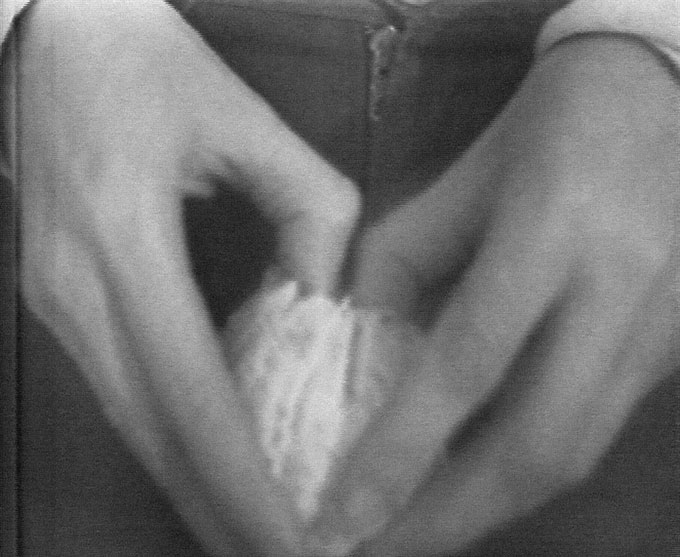 In the decades after the war dance and performance develop in autonomous circuits, but towards the turning point of the millennium, this 'separate' development increasingly crumbles. Today, that separation is hardly relevant.
Today, in 2016, precisely for this reason, it constitutes a fascinating challenge to present historical works side by side. To what extent are there overlaps and differences with regard to contents, underlying concept and formal aspects? Did artists belonging to different disciplines and from a different background use the same semiotics? For STEP UP!, these and other questions provide a crucial approach and the exhibition tries to come up with a multitude of answers to them.
The long-term exhibition project is without encyclopaedic aspirations. Rather than seeking to provide an overview, STEP UP! presents a selection of works that in a playful way wants to draw attention to fresh points of interest, alternative viewpoints and surprising associations. Yet the selection also represents an unprecedented sample of a particularly exiting era—a time when the Belgian artistic production, at the interface of dance, performance, plastic and audiovisual art, culminated in a remarkable climax.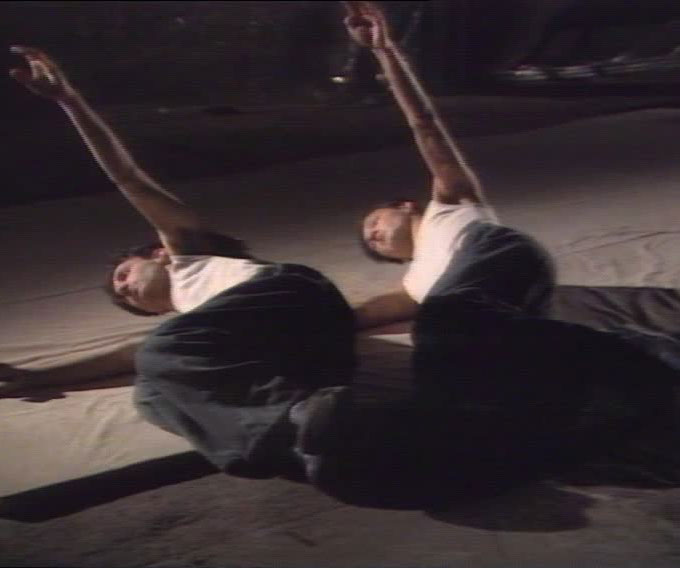 In Belgium, since the late 1960 performances and happenings had been taking place in Antwerp in bars, on the streets, but also in for example the exhibition space A379089. Performance-events also took place in the 1970s in the Palace of Fine Arts in Brussels, the Museum of Fine Arts in Ghent or Musée des Beaux-Arts in Liège. In 1978 in the Brussels Beursschouwburg the first Performance Art Festival took place; "Beursschouwburg" actually translates as Theatre of the Stock Exchange, but in contrast with its name, at the time the place was mainly a sanctuary for concerts and film screenings. Little audiovisual material has been digitized from this period; most documents have been filmed on a tripod or with a hand-held camera.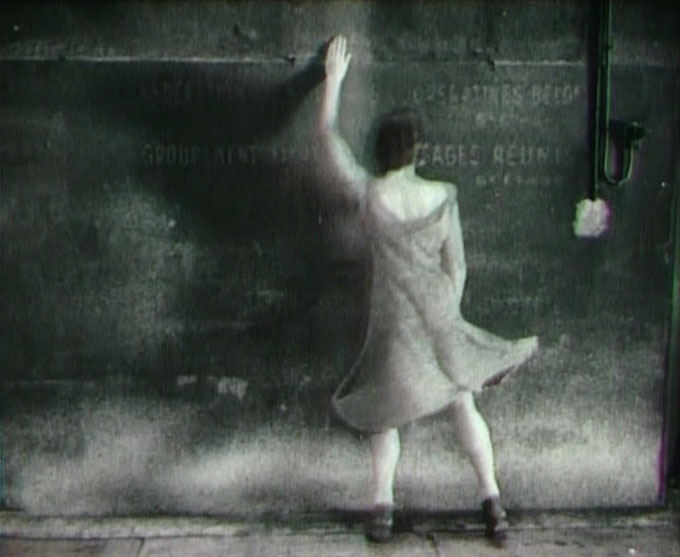 STEP UP! deliberately chooses not to include such documents. Of importance is that the videos on view are also creative: in their work the makers consciously show the potential of the camera angle, lighting, setting, etc., and they play freely with the editing, sound, etc. The works included in the exhibition were almost all intended to be films. The dancers, choreographers and artists therefore worked together from the very start with the film directors or other artists. The first works on view at the exhibition were frequently made in the intimacy of the artist's/artists' studio or living room.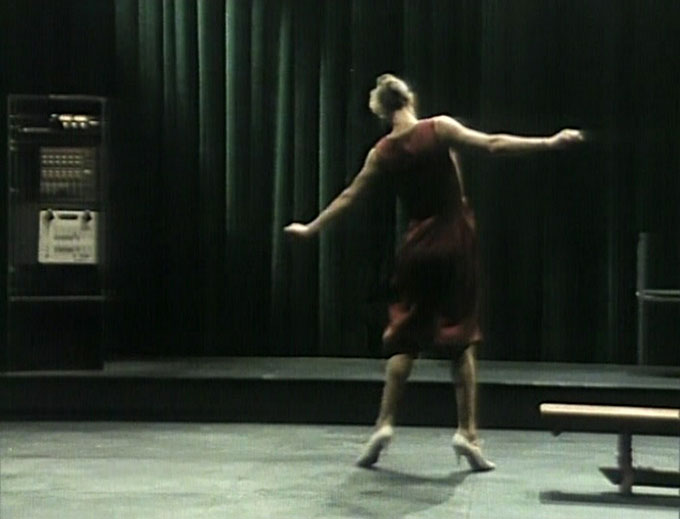 In the 1980s a new generation of dancers and choreographers emerged in Belgium. Right from the start, they meet with international acclaim. Belgium innovates by mixing dance with the idiom of the theatre, the circus or the visual arts.
In the 1990s developments in the newly created dance landscape gain momentum, as government administrative authorities take important steps to support contemporary dance. As a result, lots of dance organisations, such as Klapstuk (Leuven), De Beweeging (Antwerp, now WP Zimmer), Charleroi Danses (also active in Brussels) and Dans in Kortrijk (Buda) see the light; all of them actively support young choreographers and dance companies. With the organization of the dance training institute P.A.R.T.S. in 1995, an initiative of Rosas and the national opera De Munt, Brussels attracts numerous international choreographers that settle down in the capital. In 2000 the city deservedly boasts the title 'Dance Capital'.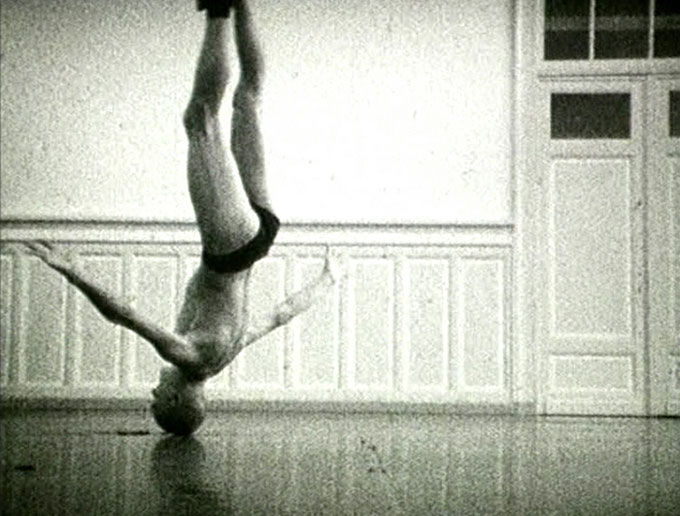 However, dance choreographies, theatre performances and other art performances, are ephemeral events: within a certain period of time they are performed once or several times for a—small or large—limited audience, only to disappear afterwards forever. For this reason, and also because of the rapid developments and democratization of technology since the 1960s and 70s (Super-8 and Portapak, the first video camera for home use), in the 1980s dance creators start to make extensive use of film and video to register their choreographies. There are hundreds of films from this period. Only a few stand out with regard to the form and the creativity of the maker, and go beyond a mere recording of what happens onstage. Often these films involved the collaboration of choreographers and dancers and professional film and television makers or artists of some repute. STEP UP! includes numerous of these unique collaborations.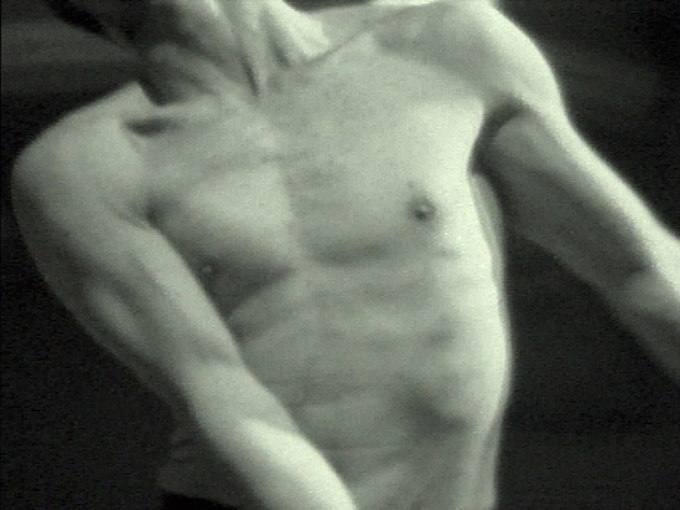 STEP UP! presents an exquisite selection of performance and dance films, along with videos that were not specifically created in these contexts or circles. Yet in the latter works we notice a similar approach, point of view, idea or philosophy. They breathe the same energy or atmosphere, or they resemble each other surprisingly. Sometimes this is due to a great gesture or an explicit attitude. But often the exhibition opts for the subtlety of the small gesture. STEP UP! is an invitation to discover formal, conceptual or narrative overlaps, similarities and contrasts. It is up to you to experience this for yourself!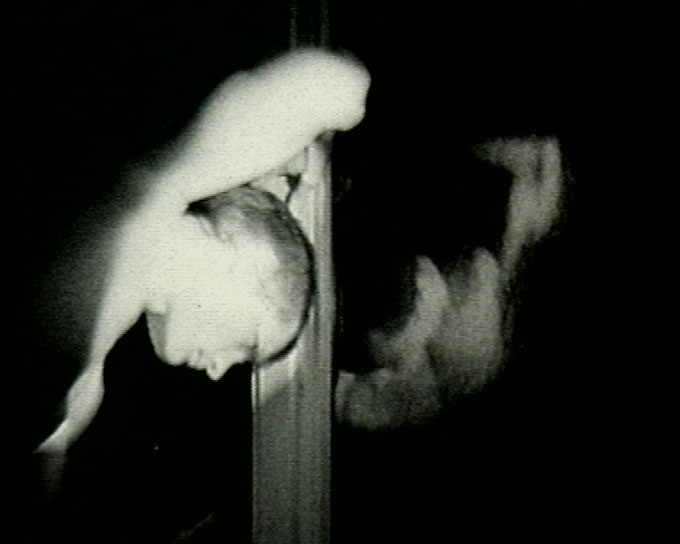 CURRENTLY ON VIEW
21.06.2017 — 16.07.2017 STEP UP! - Chapter 3 Belgian Dance and Performance on Camera 1970-2000
1/ Emilio López-Menchero - Claquettes 1998, 5'24", colour, sound.
With his videos, performances and installations Emilio López-Menchero (b. 1960) questions the identity of the 'artist' in society. Putting things into perspective, relativizing, he investigates the myths that go with existing icons from literature, music, cinema and even cartoons. López-Menchero, an artist with Spanish roots who has lived for several decades in Brussels, often uses the city as the canvas for his socially committed actions and works. In 2010 for instance, he temporarily erected a replica of the famous Checkpoint Charlie at the border between Brussels and Molenbeek, a crossroads where a trendy neighbourhood turns into a more popular quarter on the other side of the canal. Obviously intended as a playful act, López-Menchero attempts to question the meaning, rules and functioning of borders. This artist is always in for a costume party too. In series of video works, photographs and performances – the so called Trying to be … series – he dresses up as famous artists, writers and mythical figures such as Frida Kahlo, Cindy Sherman, James Ensor, Honoré de Balzac, Yasser Arafat, Bin Laden, Rasputin or even Rrose Sélavy.
The short video Claquettes is part of the ensemble Mirror Mode, in which López-Menchero explores the technical possibilities of his MiniDV Handycam, making use of the reverse screen display of the camera as a tool to establish a relation between the artist – who records himself without the help of a cameraman – and the frame of camera. In this short clips López-Menchero questions both technical and personal self-representations, as well as time, through the mediation of his body.
In Claquettes we witness the artist performing a curious exercise in the art of tap dancing while clicking his fingers and clapping his hands. The fixed camera records his performance, but focuses on his naked body – only the torso is visible. The video is a registration of time and a vague memory of and reference to his Spanish origin, but also a short and playful experiment with the medium itself.


2/ Anne-Mie Van Kerckhoven - Victoria (Part of Pas de danse)
1989, 9', colour, sound.
Anne-Mie Van Kerckhoven (b. 1951) has been creating and exhibiting drawings, paintings, installations, film animations and interactive digitalia since 1975. Often she teams up with her life companion, the artist Danny Devos, such as for the legendary noise project Club Moral, which has existed since 1982. Setting out from a fascination with the way how the brain works and how the origin of language was reinforced, Van Kerckhoven explores the domain of the subconscious in the tradition where science and art meet.
Van Kerckhoven: 'Filming a dancing subject heightens its visual accessibility. In contrast with the enforced static position of the seated spectator, the point from which the dancer is viewed becomes personal. It becomes possible to observe details accurately. The silence and technical capabilities, particularly with respect to light, of the video camera minimise my impact on what's going on, allowing me to achieve a pure recording of the intimacy that exists between the bodily artist concerned and his hungry admirer.'
Since the 1980s, Van Kerckhoven has worked together on various occasions with the Antwerp based innovative choreographer and dancer Marc Vanrunxt (b. 1960). In his choreographic language he seeks to explore and redefine time, space, energy and presence. Vanrunxt's oeuvre is based on oppositions such as visible/invisible, tangible/intangible. His artistic vocabulary is rooted in the tradition of punk and abstract expressionism.
Victoria was commissioned by the VTI, the Flemish Theatre Institute (nowadays called Art Flanders) for the project Pas de danse, for which five choreographers and video-artists were invited. AMVK filmed Marc on the roof and in a room of deSingel in Antwerp. In the editing she lets these images overlap, creating a transcendent patchwork that is like stream of images.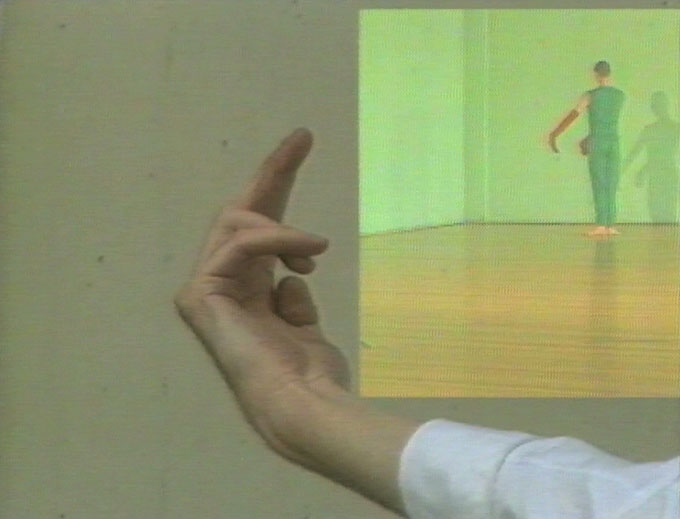 3/ André Colinet - A Kiss to Build a Dream On
1985, 14'38", colour, sound.
Since the late 1970s, André Colinet (b. 1955) has produced dozens of creative documentaries and video works that deal with subjects and people that relate directly to his personal life. Colinet is active on the fringes of visual anthropology and art, touching upon questions that connect pop culture with the position of the individual and the artist in different societies – a fascination that transcends space and time. What is the essence, meaning, motive and motivation of the artistic calling, what about the longing for recognition, communication and the search for love? His body of work that moves back and forth between experiment, home video, documentary and fiction often references Henri Storck, Marcel Broodthaers and Sergei Eisenstein; his unique cinematographic language could be described as both expressionist and surrealist.
After shooting a series of 16 mm films, A Kiss to Build a Dream On is actually Colinet's first video: the first part of a trilogy about human relationships (followed by To Be Born Again, 1987, and Avalon, 1989). The works were produced by the famous Brussels theatre house Beursschouwburg. A Kiss to Build a Dream On is a choreography of human relationships, based on attraction and repression. In a small room a man called André (Yvon Vromman) is washing the dishes and a woman called An (Elsje Van Oekelen) is reading a newspaper. There is no communication between them. When one of them tries to embrace the other, the other pushes him/her away. Another scene shows the same couple, but now they are kissing and passionately saying goodbye to each other. These two scenes are repeated throughout the video. After some time another man named Cid (Samy Szlingerbaum) enters the frame. Like in later works, miscommunication and unrequited feelings are the major subjects of this intense and beautiful first video work by Colinet.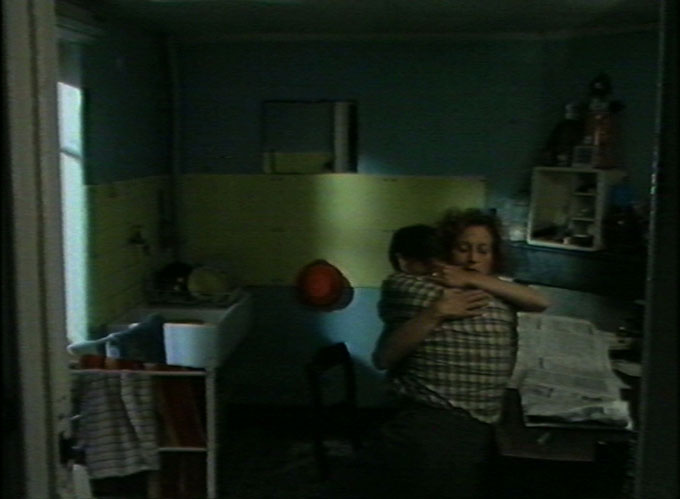 4/ Messieurs Delmotte - What's Done, Evil's Done
1997- 1998, 6'30", colour, sound.
Messieurs Delmotte (b. 1967) positions himself somewhere between reality and imagination, between genius and dilettantism. Distinguishing himself by a formal dress code, poker face expression and meticulously combed hair, Delmotte presents himself as a dashing character (a double) that surprises his audience with – unpredictable and absurd – gestural discoveries. And yet such gaiety and nonsensical behaviour betray an existential and poetic revolt. Delmotte engages himself in a hilarious and heroic battle dealing with objects, humans or animals alike. In so doing, he undermines 'the rules of the game'.
The deadpan, Buster Keaton-like mystery artist poses as a real dandy: he is irresistibly charming and elusive. His dedication gives way to what he cannot suppress. His actions are so blatantly topical, so banally urgent, they can't be postponed. They have to take place, then and there. He translates his unbridled naughtiness, his love of danger and way of sneering at the institutionalised art world into singular actions that result in a one-part narrative image. Coarse and crude, his videos mock just about everything. Never aspiring smooth perfection, they are produced with the simplest of audio-visual means and are characterized by unity of time, place and action.
The home made film compilation What's Done Evil's Done presents an objectless aesthetic that considers the work of art simply as a passage, a transitory form that alters our way of looking at behaviour, ways of production, and relationship to the world. In these sequences, the city merely provides an environment for absurd actions performed alone before the camera. Delmotte performs five short nonsensical actions reminiscent of the silent film antics of Charlie Chaplin. An unidentified European city serves as the vaguely timeless backdrop in which the protagonist/man-about-town provokes viewers with a stream of random violent actions against inanimate objects such as a bed of roses, a pile of dog excrement and a traffic light.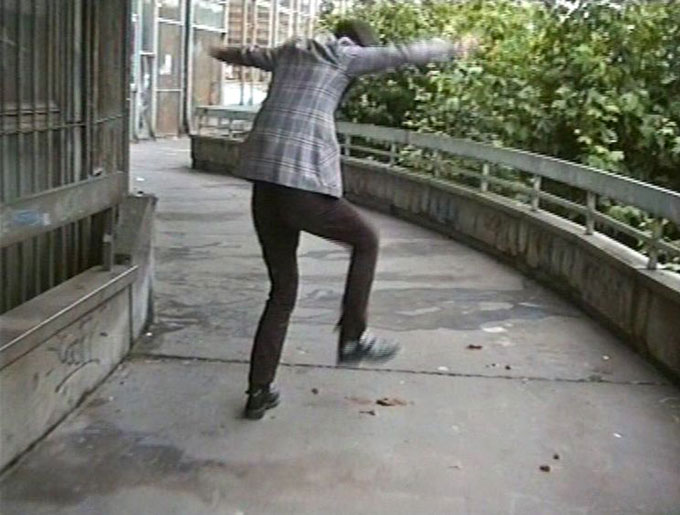 5/ Jacques Lizène - L'art banlieue (ou la banlieue de l'art)
1979, 3'16", sound, French running titles.
Jacques Lizène (b. 1946) was among the most productive members of the Liège artists' collective Le Cercle d'Art prospectif (CAP), which, from 1972 onwards, developed a considerable body of work in the vein of so-called 'relational art'. Their political and sociological standpoints are reminiscent of Fluxus, even though Lizène prefers to refer to his own work as Non-Fluxus.Whereas Fluxus embraces life, Lizène opposes his work to it: with a tongue-in-cheek attitude he embodies 'vasectomy' and 'infantilism'. He sees his projects as products of the virtual 'institut de l'art stupide'; they are 'easy', 'unimportant', even 'ridiculous'.
In the virtuoso L'art banlieue (ou la banlieue de l'art), a performance he made facing the camera, he opts resolutely for this path. At the beginning of this video Lizène warns us: 'The mediocre artist has more rights to fame and money than the talented one, who can be simply satisfied with his art.' Lizène is wearing a white suit; behind him two huge breasts keep on shaking to the turbo-beat characteristic of his videos. Sentences like 'long live vasectomy', 'crappy', 'too crappy', 'even crappier', 'but not crappy enough', 'worthless', 'charmless' scroll over the screen. After powdering his face with flour and painting his lips, he takes a sausage out of the fly of his trousers and chops it to pieces. He does so repeatedly with a cucumber, an eggplant and a black pudding. At the end, he spits on the camera.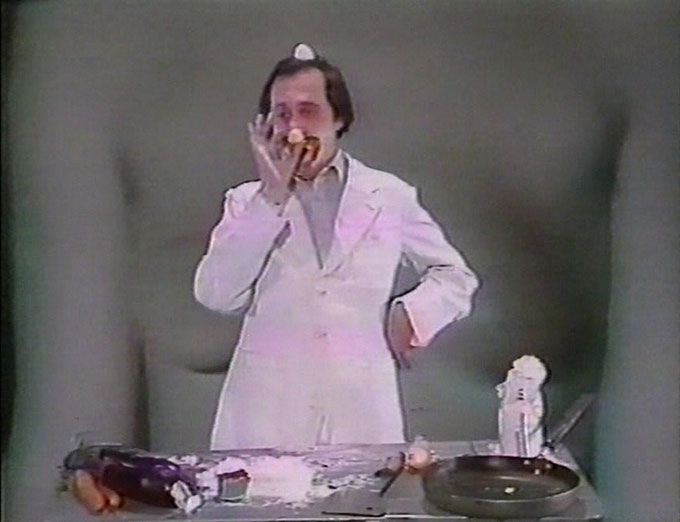 6/ Cel Crabeels - Topologic
2002, 12'30", couleur.
In his videos, installations, photos and performances Cel Crabeels (1958) toys with the notion of emptiness as a meaningful environment that is open to a multitude of interpretations. His spatial works link various levels of reality to the physical experience of the environment, and they often stimulate the audience to interact directly with them. In this process circumstantial elements play an important role. Conversely, in his videos background elements are systematically filtered out, until nothing remains but a minimal testing area of space and movement. Above all, he is interested in peripheral events, marginal actions he isolates in space, making them the focus of our attention. Images are reduced to their essence, yet they are open to different interpretations. His work essentially embodies a reflection on the possibilities and diversity of our perception, while at the same time it explores the potential of art as a factor that influences perception.
Topologic shows the prolonged contortions of a man attempting to put on, and to take off again, a piece of clothing. Here the body is used both as a terrain of experiment, and as a metaphor for artist's labour of inhabiting space in general. The struggle between artist and material, in this case a three-piece suit, illustrates the creating process of an artist in a metaphorical way. A man is seen performing different movements against a neutral background. The man clumsily attempts to remove his waistcoat while keeping his jacket on. Because neither the man himself nor the background give an indication of any kind of narrative structure the viewer is lead to read the image as a 'conductor' or catalyst of certain emotions.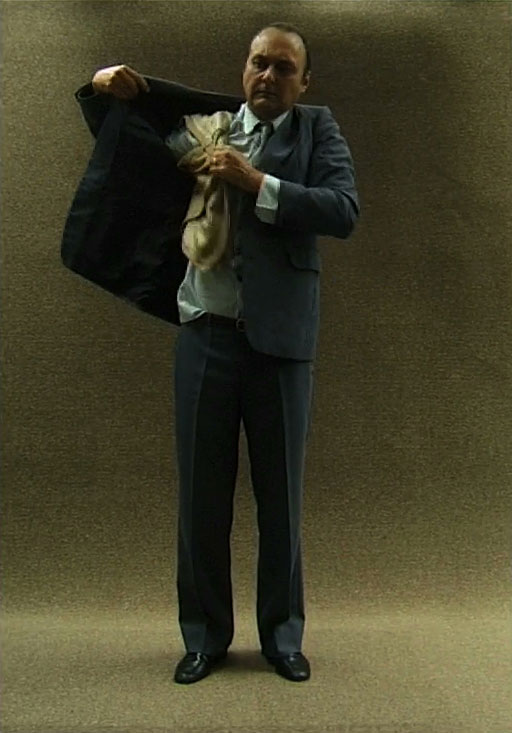 7/ Ria Pacquée - Madame going to a dog show
1988, 29'30", colour, sound.
Since the 1970s, Ria Pacquée (b. 1954) has recorded her presence in this world, or rather disguised herself as a specific persona, resulting in an unique performance language of her own. These personifications, including 'Madame' or 'It', were 'played out' in photographs at first, and were later also recorded on video as well, displaying a slightly adapted version of her 'true' self. Pacquée has also turned the camera towards the 'outside' world. Here too, she deals with everyday life, embracing all that is encompassed by it including what may be seen as relative, as left-out or even as odd.
In the second half of the 1980s, Pacquée acquired a certain fame with her 'Madame' persona, in which she takes on the character of a lonely middle-aged lady. In Madame going to a dog show we get what the title says: an observation of this lady visiting a competition where dogs are exhibited for their looks, skills and behaviour. Although happening there and then, Pacquée's work functions as an absurd document of a time that never was or will be: as if it were pieces of social archaeology with which she creates once more a record of her presence in this world.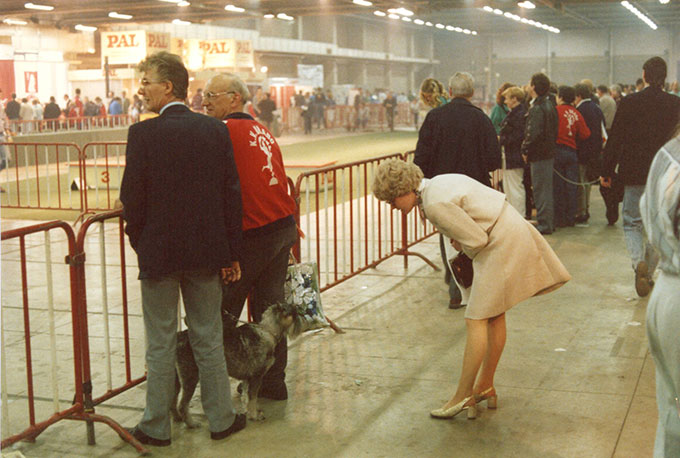 8/ Jos De Gruyter & Harald Thys - The Curse
1999, 17', colour, sound.
The videos of Jos De Gruyter (b. 1965) and Harald Thys (b. 1966) balance on the verge of alienation: the strongly pronounced, exaggerated gestures, the sober settings and the apathetic disposition of the degenerated characters that wander about in an isolated world of their own. In short: over the years, the duo developed an idiosyncratic performance language. To them, the outside world is unthinkable – as if there is a vacuum outside these rooms or, at best, an imminent, invisible threat.
For the most part their videos start from trivial and almost corny situations and actions. These extremely familiar situations and fictitious observations are disrupted time and again by the artists. To this purpose the duo makes use of a series of techniques which they have derived from the dramaturgical jargon of theatre and TV-shows for children. For instance, they create very tight backgrounds, almost minimalist because of their predominant grey scales. They contrast sharply with the almost distressingly intimate way in which the characters deal with one another, an aspect that is reinforced by their clothes with an often familiar feel. This intimacy between the actors – often, by the way, Thys's brother and sisters and De Gruyter's half-brothers – is continued in the unnervingly slow dialogues, which are just as basic, and in the childlike, simple actions they perform – at a similarly slow pace. In fact the actors are reduced to stereotypes.
In the same minimalist style that would later characterize The Bucket (2001) and The Spinning Wheel (2002), The Curse tells Maria's unhappy story – a dark and absurd fairy-tale. After giving birth to her first child, she has mysteriously lost her husband's love. The situation is as tragic as absurd, the universe it deals with as grotesque and enigmatic as alienating. The Curse is a succession of short sequences that appear almost as small tableaux due to the fixed camera viewpoint and the inert rhythm, hardly ever perturbed by the characters' discreet gestures and indolent dialogue, which is as usually dubbed by the filmmakers themselves.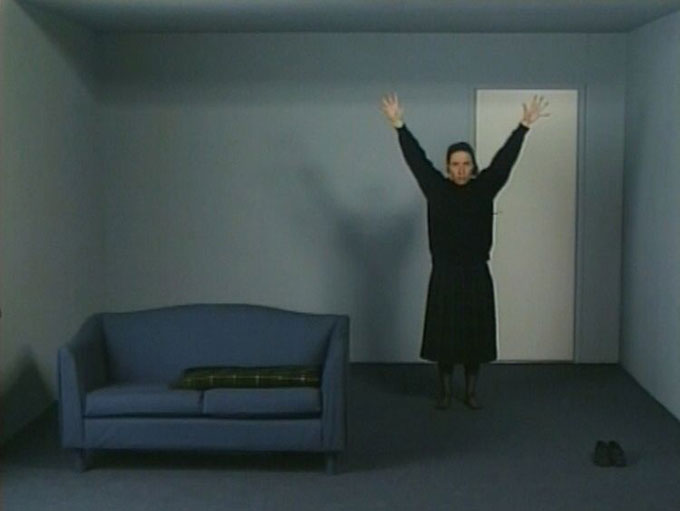 9/ Angel Vergara - J.H. The Art System
2004, 2'39", colour, silent.
The oeuvre of Angel Vergara (b. 1958) comprises a wide range of media and disciplines, including performances, drawings, paintings, videos and installations—and even a bar. A continuous cross-fertilisation between art and life is a major constant, with additional focus on the specificity of the artist's position. Vergara adopted a subjective perspective towards a heterogeneous spectrum of social and artistic topics (a shoemaker at work, an office building, Marcel Broodthaers' tomb) using simple editing techniques such as accelerating images. In his Films Actions, a series of recordings of performances in which his alter ego Straatman, a figure seen sitting underneath a white canvas in a public space, is introduced. He bleaches the images he has filmed with digital techniques that are neither high-tech nor subtle. Vergara belongs to a generation of artists for whom accessible and cheap media technology—available to everyone—also embodies a universal artistic ideal. Through his frequent performances in an artistic context and his interviews with other prominent art figures, Vergara reveals himself as a chronicler of the Belgian art scene, paying considerable attention to local participants. When working or exhibiting in Spain, he also digs into the political, social and cultural history and topical issues of that country. That makes Vergara's work mainly contextual, without spoiling the subjective input of the artist.
Apart from his activities as a choreographer and dancer, Van Den Broeck is also active as curator of exhibitions, installation artist and filmmaker.
J.H. The Art System is an edited photo series of a performance by Vergara posing as Jan Hoet, when the latter was honoured on the occasion of his retirement, as well as the fifth anniversary of the S.M.A.K., the Museum of Contemporary Art in Ghent. Amidst the crowd of prominent curators, museum directors, culture ministers and artists, Vergara assumes the appearance of the icon-turned-caricature, copying Hoet's enthusiastic gestures and equally enthusiastic mode of expressing his thoughts, ultimately pointing out the absurdity and emptiness of the etiquette and codes of the arts system.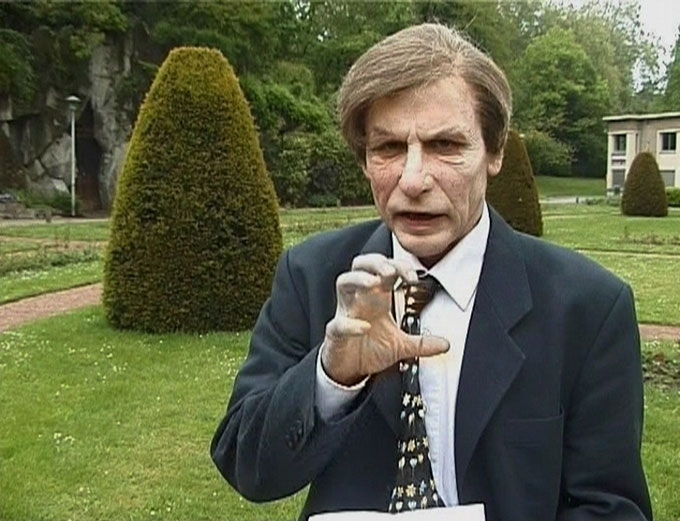 10/ Emilio López-Menchero - Trying to be Balzac
2002, 6'29", b&w, sound.
In series of video works, photographs and performances – the so called Trying to be … series – Emilio López-Menchero dresses up as famous artists, writers and mythical figures. Thus, for a few months, the artist posed as Pablo Picasso (as a young boxer), Che Guevara, Dismas & Gestas (the two thieves crucified by the sides of the Christ), and as Balzac.
The latter character brings us to Rodin, who was commissioned by the Literary Society (Société des Gens de Lettres) to make a statue of Balzac. Also Nadar played a role in this commission, as he was the owner of the renowned Daguerreotype, made by Louis-Auguste Bisson in 1842, which depicts Balzac holding his hand to his chest. With regards to the history of photography and the history of sculpture, one can also evoke the famous series of photographs by Edward J. Steichen, which shows Rodin's monument under a nocturnal light. From one myth, many are borne. By reactivating a myth, a different reading comes through. By aspiring at being a myth, a tension is created. The attempt raises a series of questions: when does the character appear or disappear, a shadow, a lock of hair, a facial expression, a whole series of details that all make up the image we have of the myth.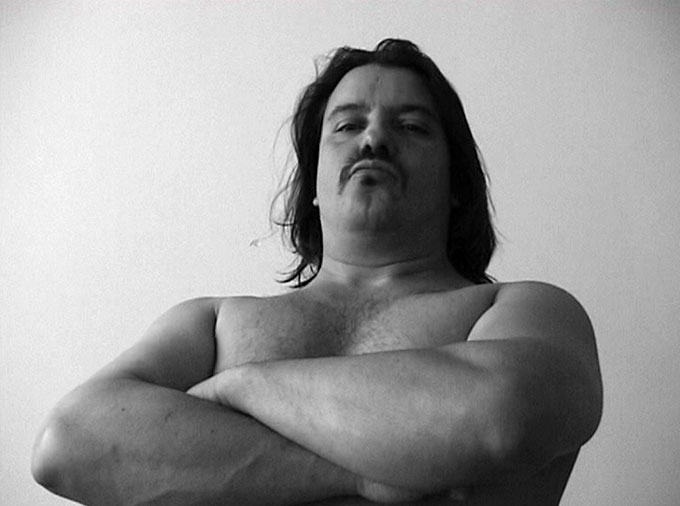 11/ Johan Grimonprez – Smell the flowers while you can
1994-2012, 5'54", colour, English spoken.
In Smell the flowers while you can, Grimonprez (b. 1962) teams up with the American born, Brussels and Berlin-based choreographer Meg Stuart (b. 1965, New Orleans). For her, improvisation is an important part of her artistic practice, while for almost every piece she aspires to develop a new, unique language. Stuart has collaborated with artists from very different disciplines, including visual artists Ann Hamilton and Gary Hill or composers Brendan Dougherty and Hahn Rowe. Recurrent elements in her choreographies are also the manipulation of theatrical devices, the transformation of spaces or the unaccustomed use of public spaces, and a dialogue between narrative and movement(s) – techniques that are very present in this early collaboration between the artists. For Smell the flowers while you can Grimonprez transposes an extract from Meg Stuart's compelling choreography No Longer Ready-Made to the anonymous waiting room of a railway station. This colourless space along with nameless travellers provides an excellent setting for Stuart's hectic and intense convulsions. Through improvisation, we see an uncertain body, self-reflexive and vulnerable. A train ride along the nightly Brussels northern area supports the vitriolic New York City prose of David Wojnarowicz (Michael Sears reads experts from his collection of creative essays Close to the Knives, 1991) and the moody and invasive soundtrack composed by Rowe Hahn. Smell the flowers while you can was restored in 2012.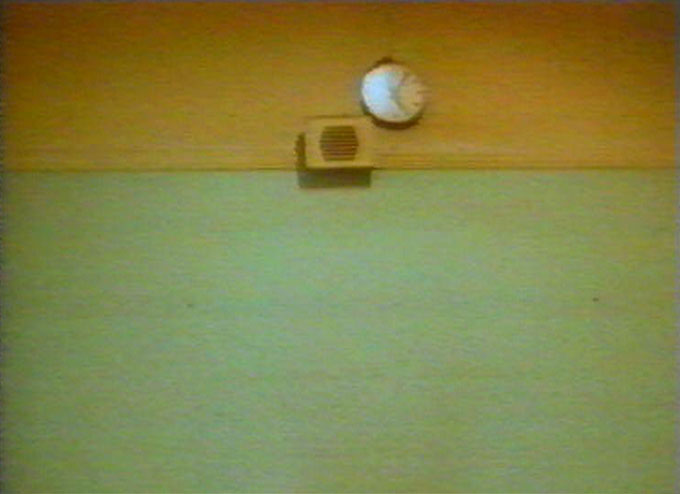 12/ Joëlle Tuerlinckx – L'homme qui compte ou Ferraris étude
1999, 38'19", colour, sound.
Some images do not present a picture – instead, they address the imagination. Specific to such images is that they are but minimally present. In the (exhibition) space a place for thought comes about through a 'present absence'. It is up to the visitor to fill the mental and physical space with an exhibition, an exercise in thought. It becomes more complicated when the space itself becomes the subject of that challenge to the imagination. This is the direction the work of Joëlle Tuerlinckx (b. 1958) veers towards. The artist starts from the existing architecture of the museum or the exhibition space by concentrating on the weak spots, the neglected or forgotten details. With Tuerlinckx's work the conventional distance between the viewer and the art object fades. Her exhibitions are registrations of moments, proposals for temporary relationships between space, time and the world.
Tuerlinckx puts divisions of time into perspectives. She draws new relationships between 1 second, 1 hour, 1 day, 1 month, 1 year. She introduces other time measuring instruments (étalons), such as the counting of things (taking account of time rather than aiming to produce the result of a calculation), or the stick or the line with the letter A at both endings. Beginning and ending: where do they come loose from each other? Tuerlinckx's research into the experience of time and of the space of the exhibition space would not be complete without elements that seek to break open or expand this space. Her films are elements that can move outside the exhibition space. There are abstract films, studies on film, travel films, blocs de réalité (unprocessed 'pieces' of reality, the registration of moments of time from daily life), archive films, catalogue films, (a publication is 'read' with a camera in hand), waiting films, fixed films, poèmes de travail, counting films, … The setting for L'homme qui compte ou Ferraris étude (The man counting or Ferraris studies) is the Compte de Ferraris administrative building, where the Ministry of the Flemish Community is located. An actor, dressed in grey suit and tie, seems to mingle with the background. Over several days, he counts everything he points at with a white stick: people and objects, different items in the canteen, countless records. The 'intervention' takes place during office hours, which means that his activities cross paths with, and compete with, those of the staff. His calculating results in a film comprising 40 sequences; its full version lasts for several hours. With L'homme …, the artist is actually revisiting a place, but this time with a vengeance. In 1996, Tuerlinckx's work Het Witte Moment (The White Moment) was 'integrated' in the Count of Ferraris building – together with the work of some 20 other Flemish artists. But now, in contrast, the artist twists this logic upside down: instead of an artwork being annexed by, and incorporated into, a government building, we see a building being incorporated into an artwork: Ferraris étude. Besides being a work of art, the man counting in the film also challenges – on a poetic level – the building's very function: that of calculating, administrating, governing. L'homme qui compte governs over his own kingdom, and by mapping, pointing and calculating the building's content, it is the building that becomes the object of his scrutiny.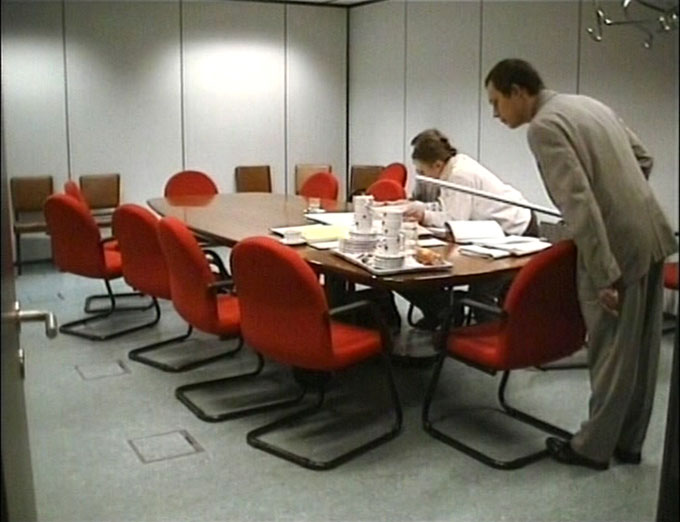 13/ Antonin De Bemels - Scrub Solos Series
1999-2001 37', b&w, sound.
Antonin De Bemels (b. 1975) works with various media, including drawing, electronic music, photography and writing. His Super 8 films are shot frame by frame. The camera records automatically, its shutter-speed increasing or decreasing according to the level of light it captures. De Bemels is fascinated by Super 8 film because of its texture and grain, and the possibilities its mechanics have to offer. In fact De Bemels combines video and film: first he digitizes the film and then he edits it digitally. The Scrub Solos are the result of a collaboration with the artist and dancer/choreographer Bud Blumenthal. The first step was a series of slow motion improvisations filmed in semi-obscurity with a Super 8 camera adjusted to a 'long exposure' setting. Using this technique, the interaction between dancer and camera, between movement and light, led to a kinetic transformation of the body itself. A soundtrack was then added, after digitization, and the sound and images were manipulated by 'scrubbing' – a process similar to the record 'scratching' techniques of DJ's – to transform and recreate the movement of the choreography. Each part of the series is based on one or two shots, each shot corresponding to one improvisation, one particular setup.
In Scrub Solo 1: Soloneliness the dancer faces a mirror, in a fixed frame. He tries to catch his own reflection, his body incessantly spinning around its own axis. At times there is no more than an abstraction of white light, but then sometimes his hand seems to pass through the mirror. A little later, a grid-like shape is interposed between the mirror and the dancer, which intensifies the sense of solitude and enclosure. The character in the film inhabits, and is almost imprisoned within, an unreal time which nevertheless seems natural. He communicates with his own solitude.
Scrub Solo 2: Disolocation and Scrub Solo 3: Soliloquy are based on the same technical principles and involve a search for ubiquity, in the sense that being two may be a remedy for loneliness, but being three or more can lead to dislocation of the self.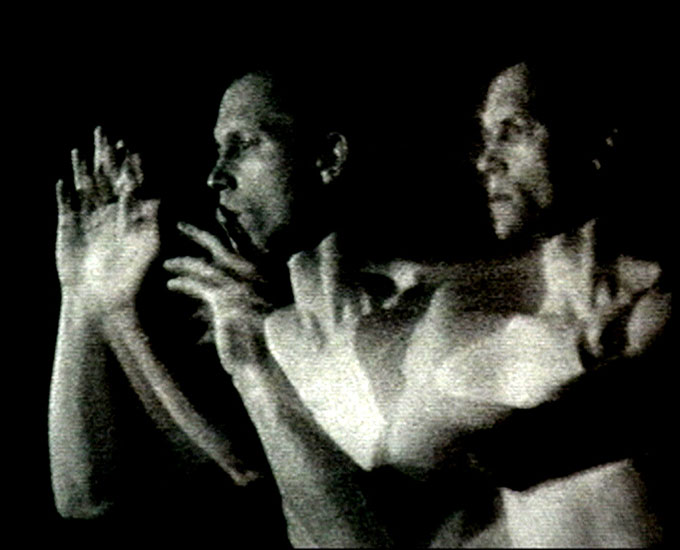 14/ Pascal Baes – Topic I & II
1990, 11'33", b&w, sound.
Topic I & II, two 16 mm films transposed to video, are based on a statement by the French film theorist André Bazin, for whom film was a spell of time. Bazin spoke triumphantly of a victory over the irreversibility and the transitoriness of life. Baes's Topic I & II – there's a good reason why the painterly quality of the dusky images are reminiscent of Francis Bacon's brush strokes – openly question Bazin's transcendent views on cinematography. His figures are barely apparitions, trying to elude time. Baes's camera literally chases the dancers in vain, as if they refuse the invasion of the privacy of their bodies. The setting is a ghostly quiet and abandoned town, a nightly melancholic Prague, whose narrow streets are shown from a new perspective: a simultaneously magical and simple visual world, a dark and melancholic trip of an intense, warped beauty.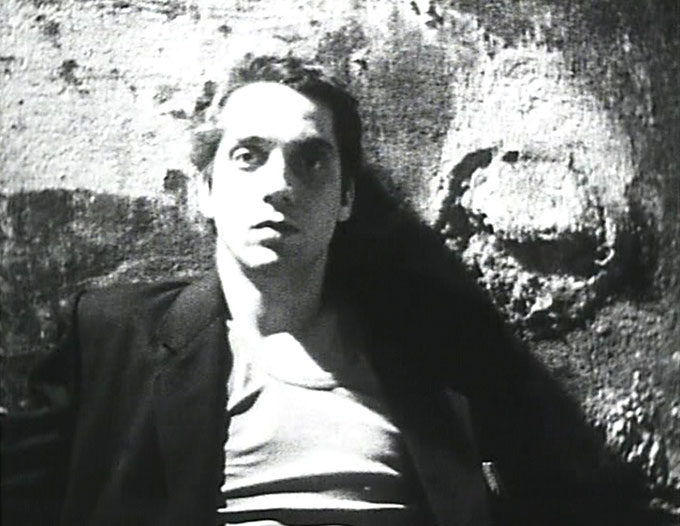 PREVIOUSLY ON VIEW
09.10.2016 — 13.11.2016 STEP UP! - Chapter 1 Belgian Dance and Performance on Camera 1970-2000
Thierry De Mey - Rosas danst Rosas 1997, 54', colour, sound.
Rosas danst Rosas premiered in Brussels on 6th May 1983 at Théâtre de la Balsamine. It was during the creation of this piece that Anne Teresa De Keersmaeker (1960) founded her company Rosas. The production consists of four parts.
In the first movement the dancers — at the premiere Fumiyo Ikeda (1962), Michèle Anne De Mey (1959), Adriana Borriello (1962) and Anne Teresa De Keersmaeker —lie on the floor; in the second they are sitting on a chair; in the third they stand in a line; in the last movement they move through space. The music by Thierry De Mey (1956) and Peter Vermeersch (1959) was created simultaneously and in interaction with the choreography.
In the film of the same title, Thierry De Mey makes maximum use of the geometric and spatial qualities of the former technical school built by architect Henry Van de Velde in Leuven, just before the building was thoroughly renovated. The film version is much shorter than the original piece, which lasted about a hundred minutes. In his film, De Mey opts for a heavily intercut version that features the 1995 and 1996 cast of four dancers, as well as all the previous casts from the long history of the performance.
In Rosas danst Rosas, the repetitiveness of music and movement initiated in Fase (1982) is developed even further. The structure that underlies the choreography is based on the stages of a day, from nighttime through the morning and the afternoon until, in the fourth movement, the dancers go into a kind of overdrive. Unequivocally feminine, Rosas danst Rosas deals with recombination, exhaustion, perseverance and, since its first performance, De Keersmaeker's choreography has become a benchmark in the history of postmodern dance.



Filip Francis – Superposition 1978, 27'33", b&w, sound.
Filip Francis (1944) studied painting but works with different media. His early video and cinematic work preserves all of its freshness, most probably because it was guided spontaneously by a carefree liberty in the use of the cinematic tools. His performances referred to historical movements such as Dada and Fluxus, and he participated in the Belgian artistic renewal that, together with artists like Panamarenko (1940) or Wout Vercammen (1938), introduced the first Belgian happenings: multidisciplinary performances that were unannounced and involved the active participation of the audience. Although the notion of scientific experimentation has always been at the centre of his artistic practice, it was in 1979 that Francis started to explore in his paintings what he called the "visual field of peripheral vision".
In this respect, Superposition is the result of a collaboration with the artist Wout Vercammen and the architect and urbanist Luc Deleu (1944). It is an early experiment with image in image, split screen, zoom in, fading, overlaps and other techniques that made the medium video — which in the 1970s was just out of the cradle — so exciting. The three artists took a camera and set out with great enthusiasm. The result is a merry, sometimes comical, but above all moving and touching video. Against the backdrop of classical music and opera, we see Deleu and Vercammen pulling silly faces. In the editing the faces have been subjected to a variety of techniques. A playful pioneering video, dating from the early days of Belgian video art.



Vincent Dunoyer - The Princess Project 2001, 27'20", colour, silent.
After his first solo work (Vanity, 1999), The Princess Project was originally intended to be a duet man-woman as a tribute to the classical pas de deux, for which Vincent Dunoyer reworked the traditional figures: pirouettes, portés ...
As a partner Dunoyer had chosen a female friend with an androgynous physique, about his own height and build. When she became pregnant, she had to cut short the project, which added a romantic dimension to the future performance: the theme of the absent loved one. The pas de deux thus literally becomes "not the two of us".
Dunoyer therefore adapted the work. With a fixed video camera he recorded part of the performance; he then projected this part on a screen and mixed it with another pre-recorded part, thus producing a fictitious duet of a dancer and his alter ego.
Encounter, first act, second act, separation: the dramatic structure of the performance is based on P.J. Castellaneta's film Together Alone (1991), featuring a brief encounter of two men called Brian and Bryan.



Luc Deleu, Filip Francis & Wout Vercammen – Super-Superposition 1978, 12', colour, sound.
Two men are sitting in a film studio. The viewer hears the sound of opera music being played in the background. Close-ups of the men's faces reappear on the television screens at the bottom of the image. The same concept is repeated, but now the men are standing up and moving their arms. Super-Superposition functions as a making of Superposition. The video shows the environment, the studio and the devices that made Filip Francis's Superposition possible, but we also see the three artists playing around in front of the camera.
In this sense, Luc Deleu (1944), Wout Vercammen (1938) and Filip Francis are interesting examples of the lively attitude and interdisciplinary approach of Belgian art since the 1960s. In fact, they were all involved to a different extent in performances and public actions, but they also experimented with films and videos until they went back to their initial medium, which was painting for Vercammen and Francis, and architecture and urban planning for Deleu.



Anne-Mie Van Kerckhoven - Dance of the Seven Veils 1991, 6'36", colour, sound.
The artistic vocabulary of dancer and choreographer Marc Vanrunxt (1960) is rooted in the tradition of punk and abstract expressionism. In the 1980s and 90s he collaborated with composers composers Serge Verstockt (1957) and Thierry Genicot (1952), the visual artists Anne-Mie Van Kerckhoven (1951), Robert Cash (1961) and Danny Devos (1959), and with dancer and costume designer Eric Raeves. In 2001 he founded Kunst/Werk, an organisation that produces and distributes his work, as well as the work by choreographer, dancer and dancing teacher Salva Sanchis.
In Dance of the Seven Veils, Vanrunxt interprets a fragment of his work Sur scène: he repeatedly performed his solo in a park in Schilde, a little town near Antwerp, and Van Kerckhoven invariably filmed the six minutes of choreography in one take. During three successive days, at six in the morning, at noon and at six in the evening, this scenario was repeated. These three takes were then superimposed. The images are recast in unreal colours. The lyrical soundtrack is composed by the outdoor low-key camera recording of Strauss (1864–1949) — who composed the one-act opera Salome in 1905 — injected with the nervous sound of the camera manipulation and the natural sound of birds chirping at three different moments on a summer day.
With the title, Van Kerckhoven refers to the name Oscar Wilde (1854–1900) gave to the dance performed by Salome in the English translation of his originally French-language tragedy Salomé (1891). Traditionally depicted in Christianity as an icon of dangerous female seductiveness and cold foolishness, Wilde perpetuated Salome's reputation as a femme fatale, but the title he gave to the dance probably relates to the popular orientalist "veil dances" of the end of the nineteenth century and to the emergence of striptease acts.



Eric Pauwels – Face à face 1989, 38'30", colour, sound.
Filmmaker, writer and film lecturer Eric Pauwels (1953) started his career with what he calls "cinéma mémoire", or ethnographic documentaries. After obtaining his PhD in cinematography in Paris with a documentary on the "possessed" in Indonesia, Pauwels began to make so-called half films (half documentary, half fiction), but also a series of four dance films in collaboration with the most prominent figures on the Belgian dance scene of the 1980s. Filming dance often brings up the basic questions of cinema: where should the director position the camera and how should it move? When and how should the director edit the recorded material? Filming dance means dealing with a contradiction: showing the performance in its choreographic dimension, in its duration, but also rewriting the body of the dance in the movement of the camera, in the editing. Filming the body, its architecture, and its movement, its energy and beyond that the relationship this body develops with the spectator.
In Face à face, the spirit of the performance is certainly sublimely reproduced, but there is more. Choreographed by Michèle Anne De Mey (1959) to remarkable musical scores by Brahms, Schubert, Webern and Billie Holiday, the dancers start with cautious and accurate steps, but progressively their movements become passionate and emotional. Face à face is to some extent the synthesis of Pauwels's earlier experiments. He carefully observes the dancers — Michèle Anne De Mey and Pierre Droulers (1951) — without them being aware of his presence. In filming their subtle movements, he finds a way to reconcile observation and participation.



Marie André – Evento 1986-1987, 25', colour, sound.
In her work Marie André (1951) incorporates various genres, such as narrative fiction, portrait, documentary and performance; she invariably sets out from some observation. The artist has a penchant for the elegance of everyday gestures and intimate details, with a predominantly female approach. After Répétitions (1985) in which she documented the progression of the rehearsals and the process in the making of the piece Elena's Aria (1984) by Anne Teresa De Keersmaeker (1960), she collaborated for Evento (1986-1987) with Mexican choreographer José Besprosvany (1959).
Since 1986, Besprosvany's own dance company has been a vehicle for a constant quest to find different modes of expression, which has resulted in a powerful and varied repertoire. His first creations — such as Momentum (1984), Evento (1986) or Tempéraments (1988) — were characterized by a minimalist style, then his productions invariably question the relationship between modern and classical languages and disciplines.
In Evento, Marie André makes use of her minimal yet elegantly sensual aesthetics to this interpretation of dance for video. About the work, she has said that it is "a dance spectacle filmed within the natural decor of a hangar." André explores oppositions, like for instance the duality of two dancers — Harijona Roebana and José Besprosvany — or the variety of architectural movements that emphasize the dancers' strength. The overall lightening creates a chiaroscuro that recalls the Flemish painting tradition. This palette — a harmony of sepia and gray colours — enhances and reveals Besprosvany's concrete choreography, which is at the same time physical and austere. In this way, the recording expresses equally well the mysterious and timeless battle fought by the two dancers while the editing fictionalizes the emotion and fascination of the choreography.



Wolfgang Kolb – Muurwerk 1987, 26'56", b&w, sound.
Since he moved to Brussels in 1979, the German filmmaker and curator Wolfgang Kolb (1953) has established a stable bridge between dance and moving images. One of his early work is a video called Violin Phase (1981) in which Anne Teresa De Keersmaeker (1960) sketches her later Fase (1982). After this video, he also directed Hoppla! (1989) for Rosas, a film that assembles two choreographies by De Keersmaeker performed to the music of Béla Bartók. In Hoppla!, Kolb's camera captures the exhilaration of the unisons, the rhythmical phrasing and the impudent complicity between the dancers. Kolb, together with Roxane Huilmand, currently leads the Danscentrum Jette and the International Dancefilmfestival in Brussels.
Muurwerk is the confrontation of the dancer and choreographer Roxane Huilmand with a limited space. After her studies in Rotterdam, Huilmand danced with Rosas from 1984 to 1989 while she was choreographer member of Kaaitheater from 1985 until 1989. Furthermore, she created choreographies such as Tanz mit Männer (1988) and Capricieuse (1989). She also danced in Kolb's film Capricieuse, Aix '89 (1989).
In Muurwerk, the wall constitutes the limits of her movements, and governs the way she moves. She fights against the building's edges, she tries to escape from the wall only to return time and again — as if she is subjected to a special gravitational force. The close-ups of hands and feet tear apart the limitations imposed by the space. The editing is jumpy and makes use of almost static shots and rare camera movements that seem to imprison the dancer in a claustrophobic stage. In Muurwerk, dancer and filmmaker are engaged in the same battle against the wall.




16.11.2016 — 18.12.2016 STEP UP! - Chapter 1 Belgian Dance and Performance on Camera 1970-2000
Thierry De Mey – Musique de tables 1998, 8'30", colour, sound.
Thierry De Mey (1956) is a composer and filmmaker. He was cofounder of the instrumental ensemble Maximalist! (1983–1989) and the Ictus ensemble; currently he is associate artist at Charleroi Danses, the Choreographic Centre of the Wallonia-Brussels Federation. In his audiovisual installations he combines film with music and dance.
De Mey composed for the choreographers Anne Teresa De Keersmaeker (1960) – Rosas danst Rosas (1983), Amor constante más allá de la muerte (1994) – Wim Vandekeybus (1963) – What the Body Does Not Remember (1987), Les porteuses de mauvaises nouvelles (1989) – and his sister Michèle Anne De Mey (1959), but apart from composing, he offered also precious help with the invention of "formal strategies", to use a favourite expression of his. A significant part of his music production is intended for dance and cinema. The premise behind his musical and filmic writing is the desire for rhythm to be experienced inside the body, revealing the musical meaning for the author, performer and audience. He has developed a system of musical writing for movement used in pieces where the visual and choreographic aspects are just as important as the gesture producing the sound, such as in Musique de tables (1987), Silence must be! (2002) and Light Music (2004).
Musique de tables is the film of the visual and music work of the same name created in 1987: three percussionists, each with only a little table as an instrument. The positions of the fingers and the hands and the rhythmic patterns are codified in a repertory of original symbols employed in the score. Musique de tables sets out to explore the delicate line between music and the movement that produces sound.



Claude Cattelain - Pour Olivier 2002, 1'10", b&w, sound.
Claude Cattelain (1972) commutes between Brussels and Valenciennes. Since the early 2000s, he has explored various disciplines such as performance art, painting, sculpture and video art. All his work starts from minimal performances or poetic gestures that investigate the forces of nature, the limits of an exhausted body, the notion of repetition and fragility; Cattelain then decides whether the action should be ephemeral and unarchived or whether it should be translated in another autonomous medium, as a different work of art.
Dessins Répétitifs (2013–to date), for instance, is a series of drawings made by walking on a paper for an entire day, leaving a footprint with each step. Colonne inversee (2007–to date) is a performance in which the artist tries to build a column with blocks starting from the ceiling; in 186 cm Underground (2012–to date) he tries to hammer a wooden stake right down into the ground. In Beneath the Sand (2013) he buries himself at the beach of the Lido of Venice and, while breathing through a straw, he stays beneath the sand as long as possible.
In his audiovisual work, too, Cattelain tries to capture the essence of the volatile. His video miniatures are flashes of amazement and fragility, staged at times, or noticed in passing. The subject of the short sequence Pour Olivier is falling and its consequences. The camera is fixed on a stick and the experience of spiralling around is recorded until the artist falls down. This fall is neither accidental nor voluntary, but seems to be due a form of exhaustion that reveals unconscious memories.



Jacques-Louis Nyst – Le tombeau des nains 1975, 2'20", b&w, sound.
Jacques Louis Nyst (1942–1996) was a painter, multimedia artist, publicist and also a pioneer of Belgian video art. In the early 1970s, he became involved with the contemporary art scene in Liège, which was well connected with other European avant-garde movements, such as the ones in Antwerp, Cologne, Düsseldorf or Paris. In 1970, at a video performance at the home of his younger brother Frédéric, Nyst met the Viennese actionist Otto Muehl (1925–2013); on this occasion, he also discovered the now legendary Sony Portapak, together with Jacques Lizène (1946). His first works were realized in the context of the group CAP (Cercle d'Art Prospectif), whose members included also Jacques Lennep (1941) and Jacques Lizène.
Together with his wife, Danièle Nyst (1942–1998), he made reflective, capricious, fantastic, performative, poetic or purely theoretical videos. The question of how art "functions" is always central in his work and Nyst referred to it as "rational art", a confrontation between objects and their representations. In an early stage, he tested his own ideas about semantics in a relatively formal and strict way. For the viewer, however, Nyst had already paved the way for countless interpretations.
In Le tombeau des nains, two pebbles are lying on a white canvas-like surface that features in most of the Nyst's videos at the time. In a minimalist choreographic movement, two fingers enter the frame, and move the pebbles, revealing the two black stains they were hiding. The fingers repeatedly attempt to move the stains as well, without success. Puzzled at first, but soon resigned, the fingers put the pebbles back on the black spots.



Edith Dekyndt - Slow Object 04 1998, 6'19", colour, silent.
Edith Dekyndt (1960) makes installations, video art, drawings and photographs. Her work often evokes a kind of dematerialisation. The material means needed for her work are modest, lending the physical phenomena the artist explores a strong sense of accessibility. Physical processes such as freezing, melting and floating are investigated in a subjective way, demanding the same investigative rigour of the viewer.
Her work does neither resemble a magician's, nor is it secretive. Though the work is often inspired by anomalies associated with the process of seeing, its outcome is the result of a lucid vision of the world. Hands often play a crucial role in this, being the primary means of touching and sensing the world.
Slow Object is a series of video works in which the artist uses everyday objects and phenomena to create poetic transpositions that imbued with the spiritual. Slow Object 04 features a close-up of a delicate manipulation of an ordinary round rubber band that bobs up and down in slow motion. It is as if the movement of the rubber band and the hand takes place in an aquarium. The object appears to be suspended as if impervious to the Earth's gravity; it slightly deforms and it rarely returns to its initial configuration. By avoiding camera movements and sound, the artist's hand mediates the intelligibility of the surrounding world. In this way, Dekyndt guides the viewer and has him or her focus on a microphenomenon, a dreamy reality where an insignificant object that is subject to unknown forces, causes us to think to think about our contingent world.



Pascal Baes – 46bis 1988, 3'15", b&w, sound.
In 1985, after studying biology, painting and photography, Pascal Baes (1959) decided to focus his attention on cinema. He experiments extensively with the use of the stop-motion technique and specializes in image-by-image animation. By filming all frames separately, he makes use of long "exposures", which has over the years become his trademark, as well as slow "shutter speeds". In his "dance films" dancing itself is freed from its limitations, which are inherent to the stage, and recorded as a paradoxical experience, creating an optical illusion of movement with simultaneously unmoving bodies. In consecutive films, Baes points his camera more on himself and especially his life companion Aï Suzuki, in wordless performances aiming for an uprooting and a deconstruction of space and time. The film medium increasingly turns into an extension and a fulfilment of his own personality.
Filmed over 24 hours in an interior courtyard in Rue de Belleville in Paris, 46bis has become a real classic. Surreally beautiful, rapid, crazy, streetwise and esoteric, this film revives the black and white tones immortalized by the Nouvelle Vague. The film looks like primitive cinema, like pictures from way back you've just found in an old, dusty trunk up the attic. You run it cautiously through the projector and discover an amazing world. This vivid film is supported by a hallucinatory tender dance that is performed in the big tradition of surrealism and the happiness of free spirits. Two girls are sliding along the paved floor to the tones of an Andalusian-Arab song. The film images animate their movements, not vice versa.



Michel François – Tournoiement 2 2002, 7', colour, sound.
Michel François (1956) is a multi-disciplinary and conceptual artist who makes sculptures, videos, photographs, printed matter, paintings and installations. His photographs and videos are about "living", and how to shape this "living". François once stated that "art, in any case, is life that one sculpts" and perhaps the artist is indeed a sculptor after all. In his work meanings accumulate over time and vary according to their configuration in space, or depending on the context. Taking into account his aim to appeal to all the senses, his work oscillates between on the one hand the temptation to enlarge or fill in voids, and on the other to hollow out or fill up volumes.
In recent years François has worked together with Anne Teresa De Keersmaeker (1960) and her dance company Rosas. He was artistic advisor for the performances Vortex Temporum (2013) and Die Weise von Liebe und Tod des Cornets Christoph Rilke (2015); he also designed the scenography for En Atendant (2010) and Partita 2 (2013). On top of the scenography co-designed with Ann Veronica Janssens (1956), Anne Teresa De Keersmaeker, Janssens and François signed together The Song (2009), a playful solo in which the bodies of the ten dancers attempt to find their own weightlessness; the choreography in this work shifts constantly between mathematical precision and human inventiveness.
In Tournoiement 2, the artist is carrying a beam on which the camera seems to be attached. The floor and his shoes are squeaking. The camera keeps spiralling around the artist.



Angel Vergara - Verre de lait 1987, 13", colour, silent.
In his artistic practice, Angel Vergara (1958) uses a wide range of media and disciplines, including performances, drawings, paintings, videos, installations and actions. Audiovisual material plays an important role in most his exhibitions and constitutes a substantial part of his work. A continuous cross-fertilisation between art and life is a major constant, with additional focus on the idiosyncratic position of the artist.
For his Films Actions (1987–1989), Vergara recorded performances in which his alter ego Straatman is sitting under a white canvas in a public space. The white cover does not only refer to the whiteness of a canvas, but also to whiteness that grows dirty, or that disguises something that must be concealed from the eye. Vergara expresses himself as a kind of medium to a social and cultural background. He often traces different media images, including pictures, television images and paintings. Sometimes this is staged in public, with Vergara walking around brush in hand, tracing the outlines of people and objects around him and thus interacting socially with his environment.
Verre de lait is part of Peintures filmiques, Vergara's first audiovisual series from the 1980s. It is a hyperfast edit that shows a glass of milk being almost emptied twice, and slightly tilted once almost empty. The act of drinking the milk itself is not shown. The camera angle almost coincides with the eye of the person drinking. Only hands and a nose are visible on the screen.



Eric Pauwels – Violin Fase 1986, 11'44", colour, sound.
A solo in two movements: dance and camera. Eric Pauwels (1953) twirls the camera around the body of Anne Teresa de Keersmaeker (1960). He creates a new relationship between the camera and the dancer, but also between body and dance, dance and cinema. Verifying, pursuing, filming is always an act with a double goal: on the one hand it is an action that involves the memory, on the other hand it is an attempt to write a new story. Representation and creation. Here, what we see is not a geometrical and minimalist choreographic structure, but a possessed woman, bathing in sweat, exploring the boundaries of physical exhaustion. Four uninterrupted takes. Pauwels is not interested in beautiful shots — his aim is to investigate. He is constantly looking for the essence and, in its explicit presence, the camera is driven to its extreme and hardship.
Inspired by Lucinda Childs's Dance (1979), De Keersmaeker's Violin Phase, the second movement of Fase, Four Movements to the Music of Steve Reich (1982) is based on the composition of the same title the minimalist composer Steve Reich (1936) wrote in October 1967. The piece is a typical example of Reich's phasing technique in which the music is created by interactions of temporal variations on an original melody. The basis score is played by a live violin. To this music he adds more live violin sounds or violin sounds that were pre-recorded on tape, but slightly out of sync. This process is repeated with variations throughout the piece. Reich's score can be considered as a rondo, basically a musical form in which the principal theme alternates with one or more contrasting themes: typical patters are, for instance, ABA, ABACA or ABACABA. In her choreography, De Keersmaeker literally transposes the circular structure of Reich's partition. In fact, while performing along centrifugal and centripetal lines, she makes minimal repeated variations around a fictive circle that structures all the movements of her choreographic composition.




28.01.2017 - 19.03.2017 STEP UP! - Chapter 2 Belgian Dance and Performance on Camera 1970-2000
Thierry De Mey – Fase 2002, 57', colour, sound.
Fase, Four Movements to the Music of Steve Reich premiered on March 1982 in the Beursschouwburg (Brussels). Anne Teresa De Keersmaeker (b. 1960) choreographs three duets and one solo to four repetitive compositions by the American minimalist composer Steve Reich (b. 1936): Piano Phase (1967), Come Out (1966), Violin Phase (1967) and Clapping Music (1972). The choreography is based on the same principle as the musical compositions, which are built on phase shifting through tiny variations: movements that are initially perfectly synchronous gradually start slipping and sliding, resulting in a complex play of continuously changing forms and patterns.
The film Fase (2002) by Thierry De Mey (b. 1956) is based on De Keersmaeker's work, but it is not the only recording of it. In 1981 Wolfgang Kolb (b. 1956) made a video, and in 1986 Eric Pauwels (b. 1953) made a 16 mm film that focused on De Keersmaeker's solo Violin Phase.
De Mey divides his film, like the choreography, in four parts, each of them shot at different locations. Nearly twenty years on from the date of the original stage creation, film director De Mey succeeds in reiterating its powerful essence in a film with a distinctive aesthetic identity that remains independent and unique. Fase is a particularly compelling choreography that firmly guides the spectator's gaze, only to have us suddenly discover that profound emotions underlie the structure. This is done very subtly, for example when the light shifts, or the synchronisation is disrupted, or the dancers appear to have moved unnoticed. The film in no way claims to compete with the dance—it simply explores the dance with great rigour and precision. The film thus reinforces what was already present in De Keersmaeker's choreography.



Jacques-Louis Nyst - Le cygne et son image 1975, 3', b&w, sound.
Spanning a period of over thirty years, the multidisciplinary work of Jacques Louis Nyst (1942-1996) relates to the Belgian surrealist tradition. In his paintings and drawings, for example, Nyst juxtaposed 'image identity' with abstract meaning, with the intention of creating altogether new readings. Nyst then extended this technique to his personal, particularly coherent audiovisual oeuvre.
The title in Le cygne et son image soon becomes the white canvas on which Jacques-Louis Nyst has drawn what at first appears to be a tail or a path. The screen is horizontally divided in two, the lower part being occupied by the canvas and the upper by Nyst's naked body. When the swan to which the title refers appears, it may seem that it is its own image it contemplates on the white surface. Nyst's swan is a walking stick but that of course does not matter. Once more, Nyst's work appears to be an affirmation of the universe contained in everyone's home, and of the poetry emanating from everyday objects.
This short video is one of Nyst's earlier experiences with the medium. In his first videos, the artist actually shows the same preoccupation with a poetical reading of everyday objects like in the rest of his work at the time. It is almost as if he uses the screen as a canvas on which all sorts of objects can be placed and played with: from coffee pots and eggs to dolls and plastic bags. Nyst confronts these objects with the ways in which we represent them. The common and the banal are transformed into pure poetry. Nyst's pretended innocence, poetical humour and logical delirium are the result of associations, metaphors, displacements, connections, gaps and puns.



Jan Fabre & Wim Vandekeybus - Body, Body on the Wall 1997, 6'56", colour, sound.
It is impossible to separate the work of Jan Fabre (b. 1958) from either the other works that constitute his oeuvre—theatre, visual work, scenarios, texts, choreographies—or from his personal biography.
There are obviously distinct themes and forms that recur in his work, such as metamorphosis, or the (almost excessive) presence of the body, or a fascination for the world of the beetle. In all, his oeuvre belongs to theatre, but Fabre's art stems from one identifiable source: 'Homo Faber, Man the Maker'. The short film Body, Body on the Wall (1997) was originally part of the performance Body, Body on the Wall …, written and directed by Jan Fabre for Wim Vandekeybus (b. 1963).
In 1985, Vandekeybus auditioned for Jan Fabre, who gave him a part in The Power of Theatrical Madness. One year later he founded Ultima Vez. Since then, Ultima Vez has intensively developed its activities as an international contemporary dance company that is strongly anchored in Brussels and Flanders. Like in Fabre's work, the essential elements of Vandekeybus's productions are tension, conflict, body versus mind, risks and impulses, physicality, passion, intuition, instinct. But on each occasion they are given a completely different appearance.
In the performance Body, Body on the Wall …, Vandekeybus plays the role of a dancer whose body is manipulated by a female photographer. Chained to two microphones, Vandekeybus's body is painted by a woman, while in a tumultuous stream of ideas his body parts are grouped according to the body systems. In the film we see Vandekeybus dancing in an enclosed lavatory. All the alienating elements of the solo come up briefly. The film visually demonstrates the issues the performance deals with.



Eric Pauwels - Improvisation 1985, 12', colour, sound.
In Improvisation, as in his other dance films, Eric Pauwels (b. 1953) creates a new relationship between himself and his subject. Here he films Pierre Droulers (b. 1951) improvising to the music of the composer and filmmaker Thierry De Mey (b. 1956) in a one-sequence shot.
After studying at Mudra, the multidisciplinary school set up in Brussels by Maurice Béjart, Droulers trained with the theatre director and theorist Jerzy Grotowski (1933-1999) and attended workshops by the American theatre stage director and playwright Robert Wilson (b. 1941). After seeing Steve Paxton (b. 1939) during the St Mark's Conference in New York, he returned to dance. He then worked on various projects as a choreographer (Tips, 1982; Pieces for Nothing, 1983; Miserere, 1985; Comme si on était leurs Petits Poucets, 1991; Jamais de l'Abîme, 1993). From 1986 to 1989 he worked as a performer with other choreographers such as Anne Teresa De Keersmaeker (b. 1960) and Michèle Anne De Mey (b. 1959). During the 1990s he worked on various projects, which for example included a collaboration with the visual artists Michel François (b. 1956) and Ann Veronica Janssens (b. 1956). Appointed artistic co-director and then associate artist at Charleroi Danses between 2005 and 2016, he developed two programmes at La Raffinerie in Brussels: the multidisciplinary Compil d'Avril festival and DANSEUR, a festival that focuses on the performer.
In Improvisation , the dancer and the filmmaker, Droulers and Pauwels, are limited in space and time. Both improvise within the confines of this setting. This results in an intense and uninterrupted take in which we hear the tones of an exciting staccato rhythm. This Improvisation is not an extract from a fluid continuity, but a race with a predetermined length of time. It's not the certitude of a well-considered preparation, but the spontaneity of the moment. The experiment, an adventurous voyage of discovery, enriches the experience, the memory, the vocabulary so well entrenched.



Lili Dujourie - Koraal 1978, 6'23", b&w, silent.
In her work Lili Dujourie (b. 1941) speaks of the passing and the weight of time. She plays with the sensuality and immediacy of materials, emphasizes the performative aspect of the work of art, investigates the relationship between nature and culture, and assigns a central role to decorative and ornamental elements. Her videos, drawings, installations and sculptures move between the figurative and the abstract, generating a sense of melancholy and searching for an emotional understanding of space.
Between 1972 and 1981, in a culturally intolerant climate dominated almost exclusively by minimalism and conceptual art, Dujourie made a series of videos in complete solitude, without a cameraman or a technical entourage. At the time the video camera was a new and cheap instrument with which artists were able to create a work in 'real time'. It also gave her the artistic freedom and manoeuvrability to take full charge of the artistic process.
Dujourie's videos are without narrative or plot, but they exteriorise and represent a preconceived 'choreography' in which movements are supposed to succeed one another in perfect rhythm. She lets a fragment of her time and life pass (off) on video without imposing meaning on the spectator.
Koraal (1978) features close-ups of fingers slowly peeling an orange, separating the segments of flesh and throwing them, one by one, off-screen. This concrete action does not represent anything as such, but it radiates an intense sensuality. The tactile construction and the close-up on the fingers' dance make us think of an animated sculpture.



Jacques Lennep - Vidéo relationnelle (1973-1974): L'escargot 1973-1974, 1'39", b&w, sound.
Influenced by structuralism and the theories of Umberto Eco, Roland Barthes and Pierre Restany, Jacques Lennep (b. 1941) founded in 1972 the CAP group (Cercle d'Art Prospectif), an artists' collective for which he formulated the principles of a relational aesthetics. The CAP group was the first in Belgium to experiment with video and included artists such as Pierre Courtois (b. 1950), Jacques Lizène (b. 1946) and Jacques-Louis Nyst (1942-1996).
For Lennep, the imagination functions according to a symbolical pattern of 'correspondences' and any artistic act is necessarily the product of relations: the structural or morphological relation, the narrative relation, as well as the associative and participatory network of relations. Only from this understanding art can develop in all of its dimensions, not as a definitive truth or a universal judgment, but as a relational and relative reality.
Ever since Lennep's research has concentrated on art as language and structure. In this sense, his work always presents subtle and unconventional performative elements that undermine the way in which art is perceived and relates to society. For instance, Lennep has worked on a series of exhibitions, performances and videos in which eight figures were shown over the course of time in an artistic context, according to a wayward conception of sociological art. His Musée de l'homme includes a football supporter (Ezio Bucci, b. 1976), an orchid grower (Paul Van Bosstraeten, b. 1977), a collector of knickknacks and clothes (Alfred Laoureux, b. 1977), a woman farmer with a collection of manuscripts by personalities (Madame Paul Six, b. 1978), a nude model (Tania, b. 1978) and a Jesus Christ impersonator (Yves Somville, b. 1979).
His earlier video L'escargot (1973-1974) is part of the compilation of short video sequences Vidéo relationnelle. The video features an image of a male performer holding a living, moving snail in front of his crotch.



Sven Augustijnen - La tristeza complice 1996, 37', b&w, sound.
Using a hybrid of genres and techniques, Sven Augustijnen (b. 1970) explores the boundaries between fiction and reality and plays with the viewer's expectations. Augustijnen is mainly concerned with political, historical and social themes and his work constantly challenges the genre of the documentary. In the 1990s Augustijnen collaborated with dance company Les Ballets C. de la B. (founded in 1984 by Alain Platel, b. 1956) on two films, namely La Tristeza Complice (1996) and Iets op Bach (1998).
The film is a document of and about the people who were involved with the creation of La Tristeza Complice, directed by Platel in 1995. Probably their most complex piece up till then, La Tristeza Complice contributed to launching Les Ballets C. de la B. to the international top. Over the years the company has become an artistic platform for a variety of choreographers and artists from various disciplines and backgrounds. The result is an unique mix of visions that can be summarized with the motto 'This dance is for the world and the world is for everyone'.
In the film, dancers, musicians, choreographer, composers and playwrights, all sorts of people of different sex, nationality and opinion, were working on the same project under the guidance of Platel. The medium, Super 8 film, enables Augustijnen to observe the production process from the fringe. The functional and operational aim is not to inform, but rather to call forth emotions and a nostalgic feeling, which is intensified by the use of black and white film. The images screened bring things to mind, the visible represents what is invisible. As a consequence, it becomes impossible to separate the themes—i.e. the individuals being placed in a fragmentary multicultural society, and coexistence as a goal—and the actual relationships between the people who are involved.




14.05.2017 — 18.06.2017 STEP UP! - Chapter 3 Belgian Dance and Performance on Camera 1970-2000
Anne-Mie Van Kerckhoven - L'Age d'Or / I Wanna Be Injured This is a selection of four shorts from the series that constitutes an ongoing work in progress (1986 - present) by Anne-Mie Van Kerckhoven (1951); in all, the series will comprise twelve parts. Each film lasts about three minutes and it is shot in Super 8. In each film, the artist Danny Devos (1959) performs a ritual on a mythical spot. Since 1975 the multi-media works by Van Kerckhoven have included drawings, paintings, installations, films and interactive digital works. In 1981 she set up together with artist and partner Danny Devos Club Moral. The project functioned both as a venue where numerous exhibitions, performances, concerts, lectures and film screenings were organized, and a performance band that explores the outer edges of industrial noise. The project stopped in 2005 and a monumental engraved marble plaque, now located at the Royal Academy of Fine Arts in Antwerp, lists the names of all those who performed, played or exhibited at Club Moral or contributed to their fanzine Force Mental.
Following Club Moral, Van Kerckhoven and Devos founded another improvisational noise band, called Bum Collar, with Mauro Pawlowski and Paul Mennes. Active since the late 1970s, Danny Devos has performed and exhibited his multidisciplinary work worldwide. The work often explores the limits of the body and reveals a fascination with violence, crime and murder.
L'Age d'Or / I Wanna Be Injured pays homage to the time Van Kerckhoven and Devos met and when Devos performed I Wanna be Injured at the end of Van Kerckhoven's exhibition = Basic at Art Something (Amsterdam) in 1980. On this occasion, Van Kerckhoven shot a three minute Super 8 film of Devos' performance; this film was not edited afterwards—it was the energy of the spot and the secrecy of the event that defined Van Kerckhoven's actions. Later Van Kerckhoven and Devos decided to do the same thing on other ritual spots they would visit together. Thus, visiting symbolical and historical places such as Corbion, Diksmuide, Mont Aiguille and Quiberon, Anne-Mie Van Kerckhoven asked Danny Devos to lay down naked on his stomach with his legs open, a piece of wood tied between his ankles, his hands tied behind his back. She then recorded the action on Super 8.

Mont Aiguille, Grenoble, France, near the entrance to Hell, according to Dante 1987, 2'49", colour, silent.
Corbion, Belgium, where Rimbaud and Verlaine lived together in the woods 1986, 3'23", colour, silent.
Quiberon, Bretagne, France, on a Dolmen 1987, 3'47", colour, silent.
Diksmuide, Belgium, Trench of Death of the First World War 1987, 2'14", colour, silent.



Joëlle Tuerlinckx- La fille qui descend l'escalier 2006, 28'38", colour, sound.
The Belgian artist Joëlle Tuerlinckx (1958) makes sculptures, films, collages and drawings. She is well-known for her site-specific installations and her research into the presentation tools used at exhibitions. For Tuerlinckx it's always a matter of time and space: the exhibition space, the duration of a museum visit, the points of view of the viewers, the time people spend studying each artwork, the space between the artworks. In other words, for Tuerlinckx an exhibition is first and foremost an experience. Since Tuerlinckx lectures about her artistic practice, she considers her onstage experience more as a form of reading from her work than as a performance, even if the setting (spotlights, microphone, projection, stage, public, seats, etc.) reminds her of a reduced and minimal theatre stage.
Nevertheless, in the past years, Tuerlinckx ventured into new territory and embraced the challenge of translating her audiovisual oeuvre to the stage: in 2010, she collaborated with the Baroque orchestra B'Rock in Atlas Eclipticalis (1961-1962), a work by John Cage based on star charts; in 2014, after a residency at STUK (Leuven), she wrote «THAT'S IT!» (+3 minutes GRATIS), a piece in which images and texts from her archive, projections, audio recordings, objects, dance, performer-interpreters, a lecture and a live soundtrack are all blended together.
La fille qui descend l'escalier (The Girl Descending the Staircase) was part of the exhibition After Architecture After, curated by Moritz Küng at deSingel (Antwerp, 03.11.2006-25.11.2006). The aim of the exhibition was to compare the second stage of perception, the image retained on our retina, to the fragile state of architecture itself. In this respect, this video precisely investigates the space in-between what is visible and what is seen.



Cel Crabeels - Slave Unit 2002, 38', colour, sound.
In his videos, installations, photos and performances Cel Crabeels (1958) toys with the notion of emptiness as a meaningful environment that is open to a multitude of interpretations. His spatial works link various levels of reality to the physical experience of the environment, and they often stimulate the audience to interact directly with them. In this process circumstantial elements play an important role. Conversely, in his videos background elements are systematically filtered out, until nothing remains but a minimal testing area of space and movement. Above all, he is interested in peripheral events, marginal actions he isolates in space, making them the focus of our attention. Images are reduced to their essence, yet they are open to different interpretations. His work essentially embodies a reflection on the possibilities and diversity of our perception, while at the same time it explores the potential of art as a factor that influences perception.
Slave Unit is a notion that refers to the status of network devices. In photography it refers to the power of flash installations, where always a distinction is made between master and slave. In this video Crabeels applies the idea to a setting with two dancers, a director, the camera, video equipment, the stage and the audience. The work constitutes a crossover between a dance performance, a camera and a video installation. A man and a woman photograph each other in turns, precisely when the camera's 'slave unit' flashes. The photographer/hunter turns into a model/slave and vice versa. At the same time, the image literally inverts as well, based on the principle of reversibility.



Johan Grimonprez - La Force Fait l'Union Fait la Force 1994, 2'45", colour, sound.
Johan Grimonprez (1962) is fascinated by the obscurity of divisions between representation and reality, fiction and documentary, private and public. He makes use of the aesthetic strategies of contemporary mass media to explore phenomena such as identification, voyeurism and fatalism. Media transgressions are the perpetual intruders of our relationship with reality—images replace reality and rewrite history.
La Force Fait l'Union Fait la Force (Strength Makes Unity Makes Strength) is an acceleration of a camera movement, a dancer and some racehorses, which all rhythmically run towards the climax. The dancer is Christine De Smedt (1963), who has been a member of the dance company Les ballets C de la B since 1991 and has been performing her own work since 1993. Her artistic work combines elements of dance, performance, choreography, artistic coordination and other artistic projects. In 1992 she worked in Paris with the interdisciplinary SKITE project (a lab for new choreographic forms), which marked her first artistic encounter and the start of a close collaboration with the American choreographer and dancer Meg Stuart (1965). De Smedt has also worked with artists such as Gary Hill, Mette Edvardsen, Eszter Salamonon and Myriam Van Imschoot. Currently, she is working on a solo project involving portraits of different artists.
In La Force Fait l'Union Fait la Force, Johan Grimonprez sets up a sociological scrutiny of the world of horse racing and unbridles it through its absurd angels. He comes up with a universe far removed from our childhood, when horses were associated with fairs and merry-go-rounds.



Boris Lehman & Michèle Blondeel - Marcher ou la fin des temps modernes 1979, 27'15", colour and b&w, English spoken and French running titles.
In 1979 the video artist Michèle Blondeel (1945) collaborated with the filmmaker Boris Lehman (1944) for the realisation of this experimental programme produced by Belgian television. Born in Lausanne, Lehman studied at INSAS in Brussels and has directed more than 400 films, many of which have never been released. They include short and long works, documentary films and fiction, essays and experimental films, reports and autobiographies. Brussels, his friends and fellow filmmakers are recurring sources of inspiration, while the particularly intimate character of the films is due to the fact that Lehman often shoots his films himself and supervises the entire production process.
Marcher ou la fin des temps modernes (Walking or the End of Modern Times) lasts exactly 27 minutes 15 seconds, and 10 images. The theme is the act of walking, of going on foot without stopping. In this age of the automobile, walking has become a painful thing, an anachronism, an archaic and nostalgic souvenir. There is no longer space for pedestrians today—their territory has become more and more reduced. They are confined to ghettos bearing the barbaric name of 'footpath'. In Los Angeles, only crazy people still walk. In other places, walking has become a luxury sport, or else an absurd mechanism. But in all ages, humans have walked—e.g. Hannibal, Mao, Muybridge, Chaplin—on earth, walked on the moon, from the caves of volcanoes to the summit of Everest. Life is but a long walk from birth to death. Without walking, humans are lost.



Jacques Lennep - Vidéo relationnelle: Dialogue avec une caméra 1973-1974, 1'03", b&w, sound.
Influenced by structuralism and the theories of Umberto Eco, Roland Barthes and Pierre Restany, Jacques Lennep (1941) founded the CAP group (Cercle d'Art Prospectif) in 1972, an artists' collective for which he formulated the principles of a relational aesthetics. The CAP group was the first in Belgium to experiment with video and included artists such as Pierre Courtois (1950), Jacques Lizène (1946) and Jacques-Louis Nyst (1942-1996).
For Lennep, the imagination functions according to a symbolical pattern of 'correspondences' and any artistic act is necessarily the product of relations: the structural or morphological relation, the narrative relation, as well as the associative and participatory network of relations. Only from this understanding art can develop in all of its dimensions, not as a definitive truth or a universal judgment, but as a relational and relative reality. Ever since Lennep's research has concentrated on art as language and structure. In this sense, his work always presents subtle and unconventional performative elements that undermine the way in which art is perceived and relates to society.
Part of the series Vidéo relationnelle (Relational Video, 1973-1974), Dialogue avec une caméra (Dialogue with a Camera, 1973-1974) is a mixture between a camera study and a performance in which Lennep communicates with the camera in sign language using flags to communicate his message.



Bert Beyens - Kamera-Kussen 1992, 5', colour, sound.
Along with his contributions to the Unie van Regisseurs (a professional organization by and for independent directors of film & television that create fiction, documentaries and animated films) and the European Film Academy, Bert Beyens (1956) is a Belgian filmmaker and teacher at RITCS School of Arts (Erasmus University College) where he teaches writing and directing. He is best known for his films Jan Cox, a Painter's Odyssey (written and directed with Pierre De Clercq, 1988) and A la Rencontre de Marcel Hanoun (1994).
In Kamera-Kussen (Kissing-Camera), a man and a woman are using a camera to kiss each other. We see two naked actors, a man and a woman, in a closed white space, each holding an identical small camera. They start filming, the lenses held close together. They part, let the cameras slide over each other's body. After a period of intense observation on both sides the lenses approach again, resulting in a black image. What the man and woman view through their cameras is shown simultaneously on the screen. The soundtrack to the video is borrowed from Richard Wagner's Tristan and Isolde (1859). The actors are the artists/real-life couple Danny Devos (1959) and Anne-Mie Van Kerckhoven (1951). Their physical resemblance is striking in this performance.



Edith Dekyndt - Second-Hand Experience 02 1998, 4'40", colour, silent.
Edith Dekyndt (1960) makes installations, video art, drawings and photographs. Her work often evokes a kind of dematerialisation. The material means needed for her work are modest, lending the physical phenomena the artist explores a strong sense of accessibility. Physical processes such as freezing, melting and floating are investigated in a subjective way, demanding the same investigative rigour of the viewer. Her work does neither resemble a magician's, nor is it secretive. Though the work is often inspired by anomalies associated with the process of seeing, its outcome is the result of a lucid vision of the world. Hands often play a crucial role in this, being the primary means of touching and sensing the world.
The Second-Hand Experiences are an uncompleted series of film installations, reinterpreting movements from childhood. In Second-Hand Experience 02, Dekyndt works with embroidery floss: she creates a square loop, shaping and reshaping continuously with her hands. The silent images and the static camera make us focus on her movements and the space she defines by manipulating an ordinary material.



Hans Van Den Broeck - Our Circumscribed Days 2000, 70'55", colour, English and Russian spoken, English subtitles.
After studying psychology and film, Hans Van Den Broeck (1964) danced in several performances choreographed by Alain Platel (1959). He cofounded the dance collective Les ballets C de la B, where he worked as a choreographer. After twelve years he left the widely acclaimed company and set up his own company Stay Only If Temporary, better known as SOIT. For each production, the company works with different performers and dancers, trying to find the fault lines in society and life. Strongly influenced by Jan Fabre's stage work, Van Den Broeck's performances are an attempt at investigating animality and cruelty, psychological traits people develop mainly in groups. His performances allude to television and film, for example, to pop music and even to a conjuring show: iconic references that are particularly meant to underline the isolation of his characters.
Apart from his activities as a choreographer and dancer, Van Den Broeck is also active as curator of exhibitions, installation artist and filmmaker.
For Our Circumscribed Days (2000), he spent a summer in Moscow with his digital video camera. The initial intention to make a portrait of the city and its inhabitants turned into a simple recording: the video presents itself as an observation, with the filmmaker almost becoming a voyeur who secretly watches the city. Van Den Broeck concentrates on dialogues that get out of hand and on the phenomenon of waiting, which, in his view, had at the time become to a professional occupation in Russia. In a sober, documentary style, Van Den Broeck plays with rhythm, with the surreal qualities of daily life and with the inhabitants, who evolve into metropolitan actors. Conflict situations, incongruities, funny or absurd situations, however minimal, draw his attention. Guided and inspired by the short stories by Daniil Kharms, Our Circumscribed Days is a slowly pulsating choreography, constructed from everyday actions.



Jan Vromman - Gent, 10 juni 1989, voor Geraldine Nerea 1989, 5', colour, sound.
Averse to common practices in video art and filmmaking, Jan Vromman (1958) adheres to an unmistakable folk idiom. His attachment to and passion for his village and his region, its languages, its religion and paganism, its mythology and banalities are always evident in his work. Yet his work is also particularly varied. It combines eloquent simplicity and human warmth with great technical skill, a sober but effective use of the medium video and a great sense of humour. His exuberant quest in various directions resulted in a wide variety of activities: he made video installations, but also videos commissioned by television, private enterprises or trade unions, was involved with sociocultural projects, documentaries, fiction exploits, acting, as well as a variety of scenarios (not all of which were realised). Belgian themes often play an important part in his work. For Vromman, the universe is intimate and local. Imagining is then equivalent to 'reviving' the daily: to make the things we have seen, felt and heard so often, visible, tangible and audible again.
In Gent, 10 juni 1989, voor Geraldine Nerea, a choreography by Alain Platel (1956), Vromman shows us with great virtuosity how a long take can be used to explore a given spatial configuration, in this case an abandoned church in Ghent. It is as though the camera possesses a will of its own, or, more appropriately, as if it has become itself a dancer within the given space. The columns actually turn into side wings behind which the dancers are playing hide-and-seek and where they continuously discover new movements and new images.



Vincent Dunoyer – Vanity 1999, 12'21", colour, silent.
Vincent Dunoyer (1962) began his professional career in 1989 as a dancer for Wim Vandekeybus. In 1990 he joined Anne Teresa de Keersmaeker's company Rosas, where he danced till 1996. In 1997 and 1998, he danced 3 solos for Vincent, a work choreographed by The Wooster Group, Steve Paxton and De Keersmaeker with which he toured the world. Since 1998 he has worked as a free-lance dancer and as a choreographer. Since 2010, his interest in the visual arts has resulted in several collaborations with artists such as painter Lucas Devriendt, visual artist Berlinde de Bruyckere, photographer Dirk Braeckman and filmmaker Jan Vromman.
In Vanity, Dunoyer dances with a small camera that registers his movements. When he leaves the stage, images of his dance are projected — a memory of what we have just seen. But is it really a memory? What we see is not what we think we see. For practical reasons, Dunoyer pre-recorded a video in a 'credible' space. The performance on the stage, with a fake camera, is a memory of the video, itself a trace of a previous private dance performance.
For many years Dunoyer refused to show images in a context that was not linked to a performance. At the request of a visual artist however, this video was screened in an art gallery. Watching it in this place, detached from his choreography, it was as if the video could now exist independently, like a work in its own right, autonomous and silent.









FILMOGRAPHY 1970-2000
Available in our medialibrary.
The Argos medialibrary is daily open from 11am to 6pm.
For more information: please ask at the reception. You can also take an appointment via telephone (+32 (0)2 229 0003) or e-mail (medialibrary@argosarts.org).


* Films not available yet.

1974
Jacques Lennep – Dialogue avec une caméra (1973-1974)
Jacques Lennep – Vidéo relationnelle (1973-1974): L'escargot (1973-1974)

1975
Jacques-Louis Nyst – Le cygne et son image
Jacques-Louis Nyst – Le tombeau des nains

1978
Luc Deleu, Filip Francis & Wout Vercammen – Super-Superposition
Lili Dujourie – Koraal
Filip Francis – Superposition

1979
Michèle Blondeel & Boris Lehman – Marcher ou la fin des temps modernes
Jacques Lizène – L'art banlieue (ou la banlieue de l'art)

1985
André Colinet – A kiss to build a dream on
Eric Pauwels – Improvisation

1986
Eric Pauwels – Violin Fase
Anne-Mie Van Kerckhoven – Corbion, Belgium, where Rimbaud and Verlaine lived together in the woods

1987
Marie André – Evento (1986-1987)
Wolfgang Kolb – Muurwerk
Anne-Mie Van Kerckhoven – Quiberon, Bretagne, France, on a Dolmen
Anne-Mie Van Kerckhoven – Uluru, Australia, near Kangaroo's Tail Men's Sacred Site
Anne-Mie Van Kerckhoven – Mont Aiguille, Grenoble, France, near the entrance to Hell, according to Dante
Anne-Mie Van Kerckhoven – Diksmuide, Belgium, Trench of Death of the First World War
Angel Vergara – Verre de lait

1988
Pascal Baes – 46bis
Ria Pacquée – Madame going to a dog show


1989
Eric Pauwels – Face à face
Anne-Mie Van Kerckhoven – Victoria
Jan Vromman – Gent, 10 Juni 1989, voor Geraldine Nerea

1990
Pascal Baes – Topic I & II

1991
Anne-Mie Van Kerckhoven – Dance of the Seven Veils

1992
Bert Beyens – Kamera-Kussen

1994
Johan Grimonprez – La Force Fait l'Union Fait la Force
Johan Grimonprez – Smell the flowers while you can (1994-2012)

1996
Sven Augustijnen – La tristeza complice

1997
Thierry De Mey – Rosas danst Rosas
Jan Fabre - Body Body on the Wall *

1998
Edith Dekyndt – Second-hand Experience 02
Edith Dekyndt – Slow Object 04
Thierry De Mey – Musique de tables
Emilio López-Menchero – Claquettes
Messieurs Delmotte – What's Done, Evil's Done (1997-1998)

1999
Vincent Dunoyer – Vanity
Harald Thys & Jos De Gruyter – The Curse
Joëlle Tuerlinckx – L'homme qui compte ou Ferraris étude

2000
Hans van den Broeck – Our Circumscribed Days

2001
Antonin De Bemels – Scrub Solos Series (1999-2001)
Vincent Dunoyer – The Princess Project

2002
Claude Cattelain – Pour Olivier
Michel François – Tournoiement 2
Emilio López-Menchero – Trying to be Balzac
Cel Crabeels – Slave unit
Thierry De Mey – Fase

2004
Angel Vergara – J.H. The Art System

2006
Joëlle Tuerlinckx – LA FILLE QUI DESCEND L'ESCALIER












SELECTED BIBLIOGRAPHY
Available in our medialibrary.
The Argos medialibrary is daily open from 11am to 6pm.
For more information: please ask at the reception. You can also take an appointment via telephone (+32 (0)2 229 0003) or e-mail (medialibrary@argosarts.org).

BOOKS & CATALOGUES
Giorgio Agamben, Image et mémoire. Ecrits sur l'image, la danse et le cinéma, Paris: Desclée de Brouwer, 2004.

Murat Alat, Selen Ansen, Barbara Baert & Vincent Dunoyer, Berlinde De Bruyckere: Yara, The Wound, Istanbul: ARTER, 2012.

Jacqueline Aubenas, Filmer la danse, Bruxelles: CRGI & Ministère de la Communauté française de Belgique, 2006.

Maya Bartel, The 1960s Body Through Sculptural Movement and Static Dance. The Works of George Segal, Allan Kaprow, and Yvonne Rainer, Saarbrücken: VDM Verlag Dr. Müller, 2008.

Laure Bergala et al. (eds.), Exploding #10 : Danse / Decadence, Paris: Exploding, 2003.

Daniel Blanga-Gubbay & Lars Kwakkenbos, The Time We Share: Reflection on and through Performing Arts, Brussels: Kunstenfestivaldesarts & Mercatorfonds, 2015.

Daniel Bombert (ed.), Danse, Cinema et Television : Actes des colloques des Journées Européennes de la Danse et de l'Image, Toulon: Théatre National de la danse et de l'image, 1989.

Gabriele Brandstetter & Hortensia Völckers, ReMembering the Body, Ostfildern-Ruit: Hatje Cantz, 2000.

Ramsay Burt, Judson Dance Theater: Performative Traces, London: Routledge, 2006.

Boris Charmatz & Isabelle Launay, Undertraining: on a Contemporary Dance, Paris: Les presses du réel, 2011.

Barbara Clausen, After the Act : The (Re)Presentations of Performance Art, Nürnber & Manchester & New York: Verlag für moderne Kunst & Cornerhouse & D.A.P., 2007.

Guy Cools & Pascal Gielen, Ethics of Art: ecological Turns in the Performing Arts, Amsterdam: Valiz, 2014.

Roger Copeland, Merce Cunningham and the Modernizing of Modern Dance, New York: Taylor & Francis Ltd Routledge, 2004.

Steven De Belder & Theo Van Rompay, P.A.R.T.S.: Documenting ten years of contemporary dance education, Brussels: P.A.R.T.S., 2006.

Roger D'Hondt, Peter Moritz Pickshaus, Amerigo Marras, Georg F. Scharzbauer, William Furlong, Gillo Dorfles, Peter Frank & Clive Robertson, Performance Art Festival, Brussel: Cultureel Animatiecentrum Beursschouwburg vzw Brussel, 1978.

Steven Dixon, Digital Performance: A History of New Media in Theater, Dance, Performance Art, and Installation, Cambridge (Mass.) & London: The MIT Press, 2007.

Jean Dupuy, Collective Consciousness : Art Performances in the Seventies, New York: Performing Arts Journal, 1980.

Sherril Dodds, Dance on Screen : Genres and media from Hollywood to experimental art, Houndmills & New York: Palgrave, 2001.

Kerstin Evert, DanceLab : Zeitgnössischer Tanz und Neue Technologien, Würzburg: Köningshausen & Neumann, 2003.

Elena Filipovic, Anne Teresa De Keersmaeker: Work/Travail/Arbeid, Brussels: Mercatorfonds & Rosas & WIELS, 2015.

Richard Kostelanetz, The Theatre of Mixed Means : an introduction to happenings, kinetic environments, and other mixed-means performances, New York: The Dial Press, 1968.

Patricia Kuypers, Nouvelles De Danse : Dossier Filmer La Danse, Brussels: Contredanse, 1996.

Rudi Laermans, Hugo Haeghens & Gerald Siegmund, Mediale bemiddelingen: over Vincent Dunoyer en anderen. Media mediations: on Vincent Dunoyer and others, Maasmechelen: Cultureel Centrum Maasmechelen, 2003.

Dirk Lauwaert, Lili Dujourie - Video's 1972-1981, Brussels: Argos Editions, 2002.

André Lepecki, Dance, London: Whitechapel Gallery, 2012.

Patrick Louguet, Sensibles proximités : les arts aux carrefours : Cinéma, Danse, Installation, Vidéo-art, Arras: Artois Presses Université, 2009.

Christine Macel & Emma Lavigne (eds.), Danser sa vie: Écrits sur la danse, Paris: Éditions du Centre Pompidou, 2011.

Jeroen Olyslaegers, Marc Verminck & Bart Verschaffel(eds.), Het vel van Cambyses : II: Fragmenten van een kritisch vertoog over theater, dans, opera, fotografie, fi, Leuven: Kritak, 1993.

Helmut Ploebst, No wind no words : New choreography in the society of the spectacle, 9 portraits, München: Kieser, 2001.

Emanuele Quinz, Digital Performance : Anomalie digital_arts 2, Rome: Anomalie digital arts, 2002.

Sid Sachs, Yvonne Rainer: Radical Juxtapositions 1961-2002, Philadelphia: University of Arts, 2003.

Richard Schechner, Performance Theory, London: Routledge, 2003.

Karen Schilders, Legacies marching on Vincent Dunoyers mediale bemiddeling van dansrepertoire, Marburg: Tectum Verlag, 2014.

Louise Spain, Dance on Camera : A Guide to Dance Films and Videos, Lanham & London & New York: Scarecrow Press & Neal-Schuman, 2012.

Hendel Teicher (ed.), Trisha Brown: Dance and Art in Dialogue, 1961-2001, Cambridge (Mass.): The MIT Press, 2002.

Elizabeth Zimmer, Envisioning Dance on Film and Video, London & New York: Routledge, 2002.

[s.n.], Nouvelles de Danse : Danse et Nouvelles Technologies, Brussels: Contredanse, 1999.

[s.n.], Nouvelles de Danse : Dossier: Vitesse et Memoire, Brussels: Contredanse, 1996.

[s.n.], Rosas / Anne Teresa De Keersmaeker, Tournai: La Renaissance du Livre, 2002.



ARTICLES
Pieter 'T Jonck, Hoe moeilijk is het om de anarchie van de werkelijkheid te tonen? : Het rauwe realisme van Arne Sierens en Alain Platel, in Etcetera, 65 (1998).

Daniel Blanga-Gubbay, Œuvre d'art sans œuvre: Sur l'usage des corps de Giorgio Agamben, in Art Même: Chronique des Arts Plastiques de la Fédération Wallonie-Bruxelles, 65 (2015).

Myriam Bloedé, Asking for a more beautiful question (poser une question plus belle encore) - Anne Teresa de Keersmaeker et le cinéma, in Images de la Culture, 22 (2007).

Thierry De Mey & Jean-Luc Plouvier, Intervista con Thierry De Mey, in Luca Scarlini (ed.), TTV Festival. Teatro Televisione Video. Performing Arts on Screen. 16a Edizione, Riccione: 2002.

Isabelle de Visscher-Lemaître, Lucinda Childs : Dance : Du minimalisme qui n'est pas pure forme, in DITS, 15 (2010).

Mark Franko, Aesthetic Agencies in Flux : Talley Beatty, Maya Deren and the Modern Dance Tradition in 'Study in Choreography for Camera', in Bill Nichols (eds.), Maya Deren and the American Avant-Garde, Berkeley & Los Angeles: University of California Press, 2001.

Raf Geenens, Eeuwige liefde en een zorgeloos huwelijk : Jan Fabre en Anne Teresa De Keersmaeker aan de slag met balletklassiekers, in Etcetera, 82 (2002).

Judith Helmer, Auf der Suche nach dem "Physischen des Denkens". Fallen aus dem Gleichgewicht oder: Die Körpersprache bei Meg Stuart, in Springerin, 15:2 (2009).

Rudi Laermans, Dansplezier, breakdance, intieme lichamen en nog zowat : Rudi Laermans op stap in Brussel. Hij zag er een tiental recente dansproducties en constateert een 'retour aux origines', in Etcetera, 74 (2000).

Rudi Laermans, Gaatjes boren in de werkelijkheid : Een gesprek met Meg Stuart, in Etcetera, 116 (2009).

Rudi Laermans, In Media Res : A walk through the work of Meg Stuart, in A prior, 6 (2001).

Rudi Laermans, In Media Res : Rondom het werk van Meg Stuart (een wandeling), in A prior, 6 (2001).

Denis Laurent, Thierry De Mey : Sur la trace du mouvement, in Art Même: Chronique des Arts Plastiques de la Fédération Wallonie-Bruxelles, 48 (2010).

Anick Leroy, Scrub&dance: Notes on the videos of Antonin De Bemels : Scrub&dance: Aantekeningen bij de video's van Anotnin De Bemels, in Frie Depraetere & Paul Willemsen, argosfestival 2002, Brussels: Argos Edition, 2002.

Hans Ulrich Obrist, Stefan Pucher, Meg Stuart & Jorge Leon, Highway 101 revisted : An interview with Meg Stuart, Stefan Pucher and Jorge Leon by Hans-Ulrich Obrist, in Janus, 8 (2001).

Erwin Jans, Frank Ödberg & Wim Vandekeybus, Instinct lost - Instinct regained : A conversation between choreographer Wim Vandekeybus and ethologist Frank Ödberg, in Janus, 13 (2003).

Erwin Jans, Frank Ödberg & Wim Vandekeybus, Instinct verloren - instinct herwonnen : Choreograaf Wim Vandekeybus en etholoog Frank Ödberg in gesprek; opgetekend door Erwin Jans, in Janus, 13 (2003).

Yvonne Rainer, A quasi survey of some 'Minimalist' tendencies in the quantitatively minimal dance activity midst the Plethora, or an analysis of trio A, in Gregory Battcock, Minimal Art : A critical anthology, Berkeley: University of California Press, 1995.

Sidney Peterson, Cine Dance and Two notes, in P. Adams Sitney (ed.),The Avant-Garde Film : A Reader of Theory and Criticism, New York: Anthology Film Archives, 1978.

Chantal Pontbriand & Yvonne Rainer, From Dance to Film: Yvonne Rainer in Conversation with Chantal Pontbriand, in Chantal Pontbriand (ed.), Parachute: the Anthology (1975-2000): performance and Performativity [Vol. II], Zürich: JRP / Ringier, 2013.

Johan Reyniers, De dans van het harnas : Jan Fabre als choreograaf, in Etcetera, 41 (1993).

Johan Reyniers, Tien Cunninghams cadeau voor één Meg Stuart en één Bill T. Jones : Vijftig jaar vooruitgang. Maar voor wie?, in Etcetera, 40 (1993).

Gert Verschraegen, De wereldmedia en de grenzen van het lichaam : Notities van bij Meg Stuarts Alibi, in Etcetera, 82 (2002).













COLOPHON
2016 – 2017
STEP UP!
Belgian Dance and Performance on Camera 1970-2000
Curated by Andrea Cinel & Ive Stevenheydens

Texts and research: Andrea Cinel & Ive Stevenheydens
Exhibition coordination: Hajar Lehyan
Archival research: Sofie Ruysseveldt
Bibliographical research: Andrea Cinel
Website development: Bram Walraet
Texts editing: Andrea Cinel, Jérémy Naklé, Rolf Quaghebeur and Ive Stevenheydens

Thanks to: the artists, choreographers and dancers; Roxanne Huilmand, Wolfgang Kolb (Danscentrumjette); Andree Wochnowski, Agnieszka Koziol, Rafal Krol, Christian Möltner, Kamil Mroczek (Eidotech); Lucas Van De Walle, Chris Pype (Licht!); Gaby Wijers, Theus Zwakhals (LIMA); Anne Van Aerschot, Frederik Verrote (Rosas); Sophie Schoukens (Sophimages); Jurgen Maelfeyt, Jonas Temmerman (Studio Jurgen Maelfeyt); Olivier Ernould, Fred Oulieu, Walt Van Beeck (Whitebox); Sandrine Blaise (French translations); Dirk Verbiest (English translations); Argos staff.

The filmography and the bibliography of this exhibition are available for consultation in Argos medialibrary.
The medialibrary is daily open from 11am to 6pm.
For more information: please ask at the reception. You can also take an appointment via telephone (+32 (0)2 229 0003) or e-mail (medialibrary@argosarts.org).

Argos Team: Laurence Alary, Andrea Cinel, Hajar Lehyan, Yakita Magamadova, Jérémy Naklé, Rolf Quaghebeur, Sofie Ruysseveldt, Ive Stevenheydens, Bram Walraet.








---