Een dichter in Texas, H.C. Ten Berge
1982 01:40:45
col.
The Dutch poet H.C. Ten Berge is closely followed during a stay of several weeks in Texas. Ten Berge goes on the lookout for an image of this American state which nullifies the stereotypical one, closely connected to the popular TV-series 'Dallas'. His fascination for cultural antropology, linguistics and poetry take him, among other things, to the Humanities Research Centre in Austin, where he consults and discusses rare documents by writers such as James Joyce and especially Ezra Pound. While studying Walker Evans's work and the Harriman Alaska expedition photo series, the relationship between photography and poetry – a mutual investigation into the 'eternal present' – becomes clear to him. The crossing results in a documentary study of local cultures and customs, interwoven with conversations with poets (like Christopher Middleton and Robert Bonazzi) and sociologists. Contrary to many other authors, Ten Berge does not fear the horror vacui provoked by the Texan vastness, the unreal light and the climatic changes, he is absolutely fascinated with these places where "your life is so fast you feel as if you can't even die". Part of the BRT (Belgian radio and television broadcast network) television series 'De vijfde windstreek' ('The Fifth Quarter').

Original broadcast date: 19/09/1982

Content:
00'00" In his hotel room, H.C. Ten Berge speaking about Texas, telephoning and reading a poem. Alternating with views of Austin. 04'35" Ten Berge going to the Humanities Research Center in Austin, where he has an appointment with the librarian. Consulting manuscripts of American writers and talking about his research on Ezra Pound (archive photographs). 09'30" Ten Berge entering Ezra Pound's and James Joyce's private libraries. 12'15" Ten Berge talking about Pound's Cantos, showing bits of manuscripts and reading a Canto. 20'00" Ten Berge buying the Daily Texas and walking through the campus of Austin university, telling how Charles Whitman gunned people down from University tower in 1966 (archive pictures of the shooting and of Whitman making a father's statement). 23'30" Pictures of the campus. 24'30" In the library, Ten Berge commenting on photographs of Eskimos (Harriman Alaska Expedition, 1899, photographs by Edward Curtis) and reciting a poem from his collection The white shaman. 31'00" Interview with the English poet Christopher Middleton on European and American poetry. Middleton reciting the poem Salami in Romanshorn. 37'45" Ten Berge showing photographs by Walker Evans and reciting the poem A glimmer of reality. 45'40" On the pavement in front of Billy Bob's Place in Fort Worth, Ten Berge vituperating against Nelson Willy who has refused to be interviewed. 48'05" Ten Berge in New Braunfels, driving his car and then playing billiards in a saloon. 50'20" Ten Berge visiting the San Jose Mission in San Antonio. A Hending high mass and watching a performance by the group Mariachi. 56'10" Ten Berge crossing Austin and walking down Red River Street towards Paul Foreman's bookshop, where he interviews Foreman and the poet and publisher Robert Bonazzi about their work and asks Bonazzi to read. 62'40" Ten Berge describing nature in Texas. 64'50" The sociologists David Edwards and Alesandra Lippuci at home in Austin, giving their views on the Reagan administration. 81'30" A rattlesnake hunt. 84'40" Pictures of a procession in Freer. 89'40" H.C. Ten Berge, on the veranda of a house in Lajitas Big Bend National Park, looking at the Rio Grande valley and the Chihuahua Desert. Talking about Pancho Villa, B. Traven and General Patton. Driving across the desert and talking about his fascination with the "Horror Vacui". At sunset, reciting The white shaman. 96'00" Ten Berge going back to Austin by car and speaking about his love of Texas. The picture freezes as he enters Austin. 101'00" Credits. 102'00"
(Source: Jef Cornelis 1964 - 1990, Espace Art Contemporain : Maison de la culture et de la Communication de Saint-Etienne, 1991)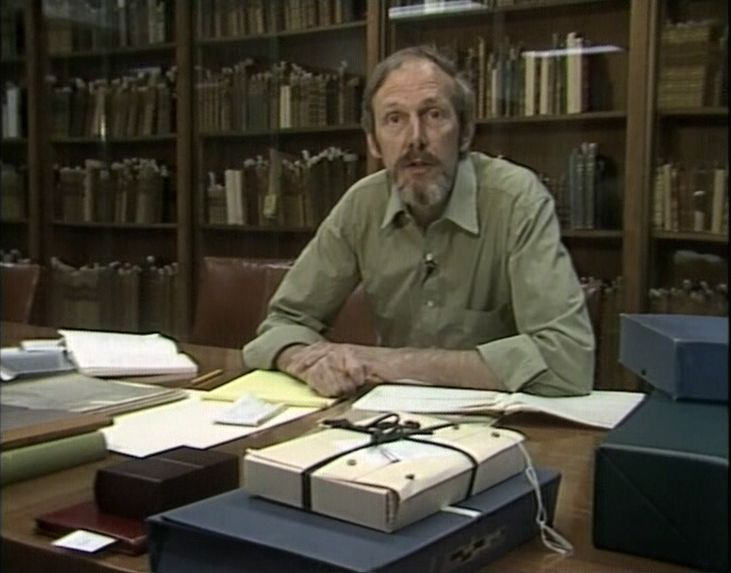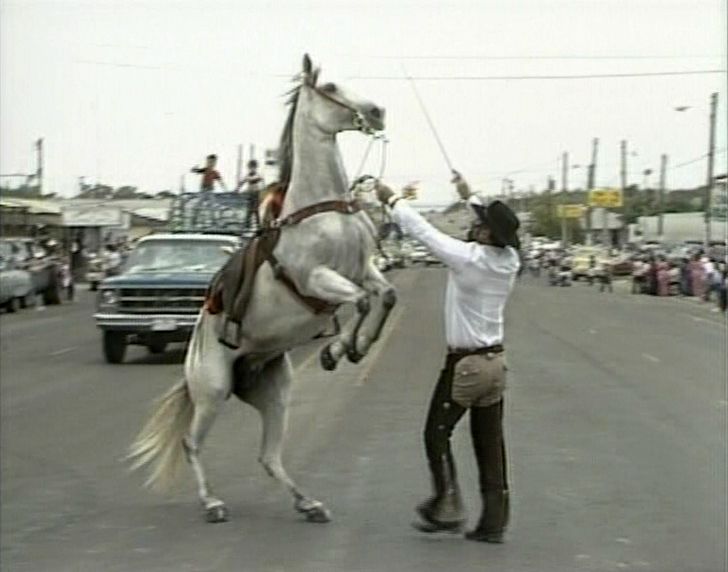 Directed by
Cornelis, Jef
With
Lippucci, Alessandra
With
ten Berge, H.C.
With
Middleton, Christopher
With
Foreman, Paul
With
Bonazzi, Robert
With
Van Deusen Edwards, David
Camera
Delombaerde, Raoul
Editing; video editing
Meynendonckx, Frans
Sound assistant
Nullens, Jan
Sound; lighting
Van Riet, Jules
Video editing
Vanderlinden, Ivo
Sound mixing
Meeusen, Leo
Assistant to the director
Van Egdom, Lea
Produced by
BRT (Dienst Kunstzaken)
Producer
Christiaens, Dirk
---